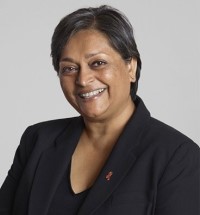 Quarraisha Abdool Karim
Dr. Quarraisha Abdool Karim is a member of the HPTN: Leadership Group, Executive Committee, Scholars Leadership Group and Performance Evaluation Committee. She is a co-founder and associate scientific director of the Centre for the AIDS Programme of Research in South Africa (CAPRISA), Professor in Clinical Epidemiology at Columbia University and the PI of the KwaZulu-Natal Clinical Trials Unit. Dr. Abdool Karim was an HPTN co-principal investigator from 2006-2012.
She is an infectious diseases epidemiologist whose seminal contributions spanning over three decades have shaped the global HIV prevention landscape, notably in prevention technologies for women. Dr. Abdool Karim is the President of The World Academy of Sciences (TWAS). She is an elected member of the National Academy of Medicine (USA); and Fellow of The World Academy of Science, Royal Society of South Africa, Academy of Science of South Africa and the African Academy of Science.