PLEASE NOTE THE WEBSITE LOGIN WILL BE GOING AWAY IN NOVEMBER 2020. READ MORE HERE.
To create your account with HPTN.org, please follow the instructions below
Click "Log In" at the top right of the HPTN website

Click on "New account or reset password"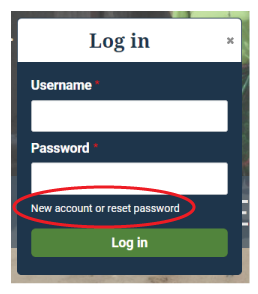 Enter your email address – make sure you use the email address that you have provided to us for our site contacts; this is the one stored in the database that will be recognized by the system as an authenticated user.**
**If you receive a message saying your email is not recognized as a username or email address, please email website@hptn.org so our web team can add you to our database**

You will receive an email with instructions to reset your password – click on the link in your email
You'll now be able to log into the website using your email address as your username and new password.