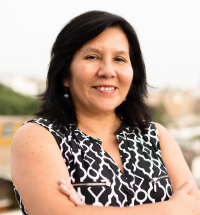 María del Rosario (MaR) León, MS, is head of the Community Involvement Unit at Asociación Civil Impacta Salud y Educación (IMPACTA) in Peru. MaR has supported several HIV prevention and treatment studies through the NIAID networks (HVTN, HPTN, ACTG, MTN) for more than 10 years. She is a community representative for HPTN 083 and HVTN 704/HPTN 085 (AMP) and a member of the HPTN Performance Evaluation Committee. MaR received a bachelor's degree in communications from the University of Lima and a master's degree in social investment from Universidad del Pacifico in Lima, Peru.
How did you first get involved with the HPTN?
When I started working as a community educator at IMPACTA in 2005, Principal Investigator Jorge Sánchez mentioned one of the trials I would be involved with was HPTN 039. I had the opportunity to develop communications and education materials, media training for the researchers and organize appreciation events for study participants.
What do you find most challenging about the work you do in support of the HPTN?
Awareness about pre-exposure prophylaxis (PrEP), antibodies, treatment as prevention and other concepts in HIV prevention trials. Another challenge is increasing people's willingness to participate in clinical trials.
What do you think will change about HIV prevention over the next five years?
The HIV prevention revolution is here and is a global priority. Structural interventions that include PrEP, post-exposure prophylaxis (PEP,) post-AMP study strategies, and HIV recent infection treatment (as prevention) are needed. And of course, EDUCATION, EDUCATION, EDUCATION.
What do you wish other people knew about your work?
Recruitment and retention work does not take place in an office during regular business hours. My team develops recruitment strategies using social media, dating apps and lesbian, gay, bisexual, transgender and intersex (LGBTI) venues. Community education preparation before and during a trial is also very important. It is rewarding to see study participants not be afraid to participate in new research studies. This is due to many years of community education from our sites and others in my country.
What might (someone) be surprised to know about you?
I write a poem book Madrugada con los pies desnudos [Sunrise with bare feet] that was published many years ago. And I love to dance! When I was a little girl, I practiced ballet and as an adult, I took belly dancing lessons.
What do you do when you aren't working?
I dance, color, and on weekends I take long walks in my neighborhood and enjoy sunsets with friends. I also have my own little city garden!