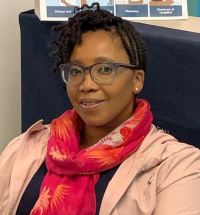 Pumeza Mzizi, a member of the HPTN 084 Community Working Group, is a community liaison officer for the Ward 21 clinical research site (CRS) at Wits RHI in Johannesburg. She has coordinated community engagement in randomized clinical trials (RCTs) for the past 20 years. Pumeza was first introduced to RCTs in 2001 when working on the DART study that was enrolling pregnant women living with HIV to evaluate the single-dose nevirapine in preventing mother-to-child transmission. This project helped shape national policies and guidelines on the prevention of mother to child transmission. She has also been active in HIV prevention research for adolescent girls and young women, adult women, commercial sex workers and men. 
What attracted you to a career in HIV prevention research?
About 20 years ago, as many of the first AIDS cases arrived on our doorsteps in our communities, sadly many of the individuals I knew visited the local clinic a few times and then disappeared, quickly stricken down by the mysterious illness. I chose to respond to the call as a counsellor, to help improve awareness for this pandemic.
What aspect of your role do you enjoy the most?
I enjoy community stakeholder engagements and HIV prevention research education activities.
What would you say most motivates you to do what you do?
I have a passion for working with young people, especially adolescent girls and young women, and seeing them become empowered with HIV prevention strategies. As a result, they become enabled to make decisions about their lives and minimize their risks of HIV infection and intimate partner violence, some of the significant challenges in South Africa.
Who has been the most significant influence in your career? Why?
Dr. Sinead Delany-Moretlwe, the Ward 21 CRS leader, has greatly influenced my career in many ways. I have learned the skills to be successful through dedication, the power of teamwork, and the constant pursuit of knowledge that she demonstrates daily. Her leadership style and incredible work ethic have always provided a fantastic blueprint for me, and she remains an astonishing woman role model.
What inspires you? 
Nothing keeps me going more than doing something significant for participants I see every day and seeing their lives change for the better. Also, helping vulnerable women make choices about their reproductive health without hindrance, especially access to HIV prevention like pre-exposure prophylaxis.
What advice do you have for new HPTN members?
As a proud member of the diverse HPTN family, I would advise team members to continue their commitment to support the innovations in HIV prevention and research. They also need to understand the field is fast-changing and should be prepared to face new public health challenges such as the ongoing COVID-19 pandemic.