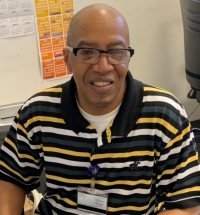 Robert Gamboa is the senior recruiter at the ICAP Harlem Prevention Center (HPC) in Harlem, New York. He joined HPC in 2009 as a community outreach worker for HPTN 061. Robert was instrumental in achieving the highest enrollment rate among all HPTN 061 study sites and best participant retention rate among all sites. He has nearly two decades of experience as a Harlem-based advocate, working with people who use drugs, transgender individuals and men who have sex with men (MSM). Robert is also part of the Harlem Hospital Community Advisory Board.
How did you first become involved with the HPTN?
I was hired as a part-time outreach worker for HPTN 061: The Brothers Study. We became an established clinical research site and had a lot to contribute to making the study a success. I started going to the annual HPTN Community Working Group Meeting beginning in 2013.
What do you find most challenging about the work you do in support of the HPTN?
Working with marginalized individuals including MSM and transgender individuals. There is a lack of trust and the stigma associated with clinical and medical research must be addressed in everything we do.
What do you think will change about HIV prevention over the next five years?
Hopefully, there will be more availability of pre-exposure prophylaxis (PrEP) and post-exposure prophylaxis, as well as a stronger focus on people who are living with HIV and getting them linked to care and successfully on treatment. I also hope studies like HPTN 083 and HPTN 084 will help make injectable PrEP a reality for people who do not like taking pills every day or are unable because of their life circumstances. Finally, I think we are all very hopeful the next five years will get us closer to a cure.
What do you wish other people knew about our work?
I wish people knew of the successes we've had in past studies here at HPC. We succeed because of the dedicated and amazing staff I work with. My greatest pride was being featured in the award-winning 2016 PBS Newshour series "The End of AIDS." I was filmed conducting outreach with sex workers in Harlem.
What might someone be surprised to know about you?
That I go above and beyond to be part of our study participants' lives and have a welcoming heart to their needs and wants. Every day, I come to work with a non-judgmental attitude, showing respect and dignity to all our participants.
What do you do when you're not working?
I love being a part of the Harlem community. I am the vice chairman of my church's men's support group and love going to sports events. I am the biggest New York Knicks fan. I also enjoy bike riding and dancing, and I partake in adult swim classes several times a week. Lastly, I love spending time with family and friends.