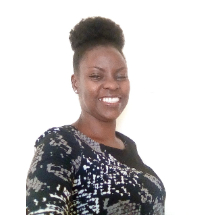 Tereza Omoro, a community engagement expert, is a member of the HPTN Community Working Groups supporting studies such as HVTN 703/HPTN 081 (AMP) and HPTN 084. She has worked in HIV prevention research as a community educator with Kenya Medical Research Institute (KEMRI) Kisumu CRS. 
What attracted you to a career in HIV prevention research?
I worked for an organization that conducted mobile treatment clinics for sexually transmitted infections along Lake Victoria's shores and beaches in Nyanza, Kenya. It pained me to hear how disadvantaged women and girls were with negotiating for safer sex. Back then, it was only condoms. With the advancement of research, there was hope that an effective HIV prevention method would be found, particularly for the female population. I knew this was where I wanted to be; I had the hope of empowering women and girls through options.
What would you say most motivates you to do what you do?
I am passionate about touching lives positively, so I get inspired by knowing the research we do, if successful, has the potential of changing so many lives in many ways and can also change policy, leading to better service delivery.
What has been one of your proudest moments as a member of the HPTN?
One of my proudest moments as a member of HPTN was when HPTN 084 study results showed that the long-acting injectable cabotegravir effectively prevents HIV among women at a higher risk of acquiring HIV. I am big on women and girls, so anything that makes their lives better is core for me. I was proud to be part of the incredible HPTN team that gave women an additional effective and convenient tool for HIV prevention. 
What has been the biggest challenge working in HIV prevention research?
The greatest challenge for me has been what happens to the volunteers after the research is over. Some studies are mainly behavioral, and you can see a marked improvement in volunteers throughout the study. It is pretty clear through what they report and even how they present when they come to the clinic for their visits. The biggest question for me has been how these volunteers are one or two years post their participation?
What advice do you have for new HPTN members?
The HPTN has a great team that offers support and gives equal opportunities to everyone in the group. New members should be ready to learn and have fun too.
What volunteering or passion projects do you do outside of work?
During my free time, I take part in projects that involve women and girls. I am particularly passionate about rebuilding the self-esteem and self-worth of survivors of domestic violence.