By Sinead Delany-Moretlwe
December 1, 2017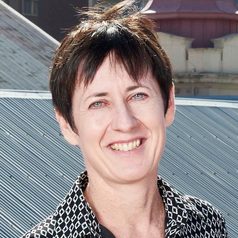 As a South African, HIV prevention is a very real and personal issue. I completed my medical training in South Africa at a time when HIV incidence was rising. The hospital wards were full of young people, including women who should have had futures ahead of them and yet for whom we could do very little. Antiretrovirals were in their infancy and had not yet reached South Africa. That experience for me as a clinician was profound. Even now, it is impossible to ignore the impact that HIV has on women in our region, particularly young women. Nearly half of the 36 million people living with HIV (PLHIV) in the world are women, and in sub-Saharan Africa, more than 60 percent of all PLHIV are women. Young women in southern Africa between ages 14 to 24 years are at alarming risk of and are most vulnerable to the infection.

As a mother of a young woman myself, I am inspired by the idea that she and her generation will have something we were not able to offer their mothers: a choice of safe and effective HIV prevention products that are under the control of women.

Over the years, the field has advanced tremendously and we now have a wealth of technologies that we are evaluating. We have learned a lot about how to do HIV prevention research with women in sub-Saharan Africa, and finally we have a prevention product, oral pre-exposure prophylaxis (PrEP), which is directly under women's control. Unfortunately, many of the same factors that shape women's risk for HIV like gender inequality and violence against women, stigma and poverty, also influence their ability to access and use existing prevention products effectively. While there is still much work to do to change the underlying social context within which women live, there are things we can do now to evaluate strategies to improve the uptake and adherence to oral PrEP, and use the lessons from oral PrEP to help us plan for the introduction of new HIV prevention products.
 
Women need HIV prevention products they can integrate into their busy lives. Condoms or pills may be appropriate for some women at some stages of their lives, but many desire a longer acting product that is discrete and does not require daily use. For many women in sub-Saharan Africa, storage of prevention products is an issue where privacy is limited, and where violence or stigma may be the consequence of inadvertent disclosure. A safe and effective long acting injectable could add to the HIV prevention tool kit, and would be highly acceptable in populations that already have extensive experience of injectable contraception.


It is very exciting we are undertaking HPTN 084, a trial to assess the safety and efficacy of long-acting injectable cabotegravir compared to oral tenofovir/emtricitabine (Truvada®). HPTN 084 is an incredibly important study for women in the African region, and will enroll 3,200 women from 20 sites in seven countries in sub-Saharan Africa. Women will be randomly allocated to receive either cabotegravir or tenofovir/emtricitabine and will be followed up for an average of three and a half years. We will learn an enormous amount about both products through this trial, as well as women's preferences for each of them.
 
It is a huge privilege for me to work on such a collaborative effort across communities, countries and continents. This week we took an important first step and enrolled our first participant. The enrollment marks the start of a long journey together that we hope will ultimately yield an important result for HIV prevention for women in Africa.

Sinead Delany-Moretlwe, MBBCh, Ph.D., DTM&H, HPTN 084 protocol chair and research director at Wits Reproductive Health and HIV Institute (WRHI) in Johannesburg, South Africa