Enhancing Recruitment, Linkage to Care and Treatment for HIV-Infected Men Who Have Sex with Men (MSM) in the United States
Study Summary
Study Documents - Study Details* - Key Study Personnel* - Study Sites* - Publications
*Authenticated users only (create your account here)
What was HPTN 078?
HPTN 078 was a US-based research study designed to develop and determine the effectiveness of a combined HIV prevention strategy that included a method to identify, recruit, and link men who have sex with men (MSM) and transgender women (TGW) to HIV care and an intervention to help people living with HIV achieve and maintain viral suppression (low level of HIV in the body).
Who participated in the study?
Overall 1,305 people (95% MSM, 4% TGW) were recruited in four US cities (Atlanta, Ga.; Baltimore, Md.; Birmingham, Ala.; and Boston, Mass.). Of the 1,305, 144 people living with HIV who were not virally suppressed were enrolled into the study and followed for 12 months.
Why is HPTN 078 important?
According to the U.S. Centers for Disease Control and Prevention, MSM continue to be the group most heavily affected by HIV in the US. While MSM represent approximately two percent of the US population, they accounted for nearly 67% of newly diagnosed HIV infections in the US in 2014. There is an urgent need to develop innovative methods to identify MSM who are HIV-infected and not virally suppressed, as well as ways to help MSM remain in care and achieve viral suppression. Achieving viral suppression is critical both for individual health and to stop HIV transmission within this community.
What happened during the study?
HPTN 078 was the first HPTN study to use a recruitment method known as deep-chain respondent driven sampling (DC-RDS) to identify and recruit HIV-infected MSM. DC-RDS uses a small group of participants, known as "seeds", who are well connected within the population to recruit other MSM they know into the study. The MSM recruited by the "seeds" repeat the process and refer other MSM they know and so on. The study team assessed the ability of DC-RDS to identify and recruit HIV-infected MSM in the US who are not virally suppressed.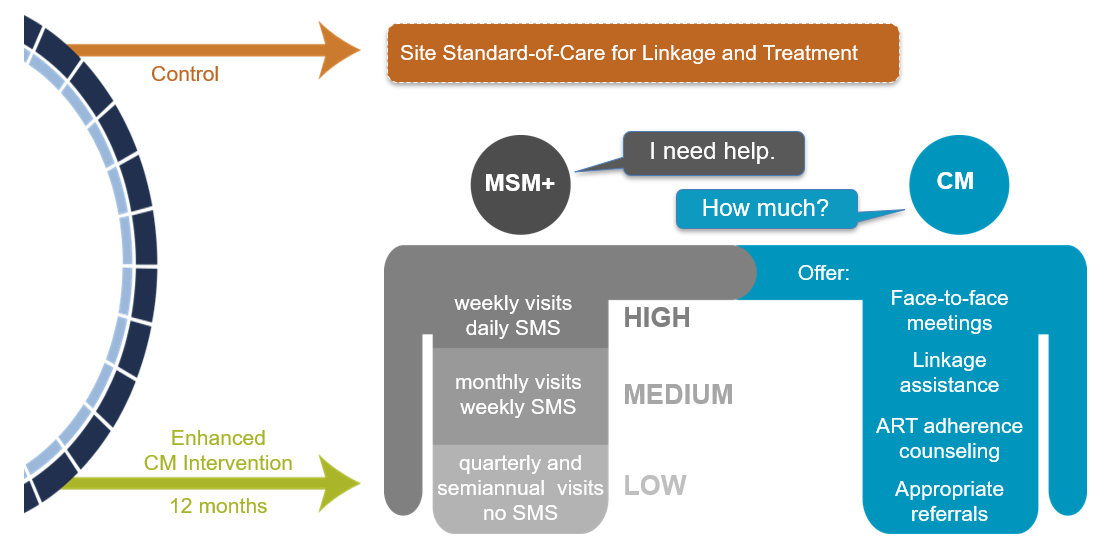 The enrolled MSM were randomized to either the standard of care (SOC) or the study intervention arm, which was designed to enhance engagement in HIV care. Participants randomized to the intervention arm worked with a case manager (CM), who helped the participant link to and remain engaged in HIV care, including health services navigation and ART adherence counseling. Participants in the intervention arm also had the option to receive automated reminders for ART adherence and appointments via text, email and phone. The control arm used the SOC for linkage to care, ART adherence and retention in care. The study team compared how well the intervention and SOC arms achieved viral suppression 12 months after enrollment.
Results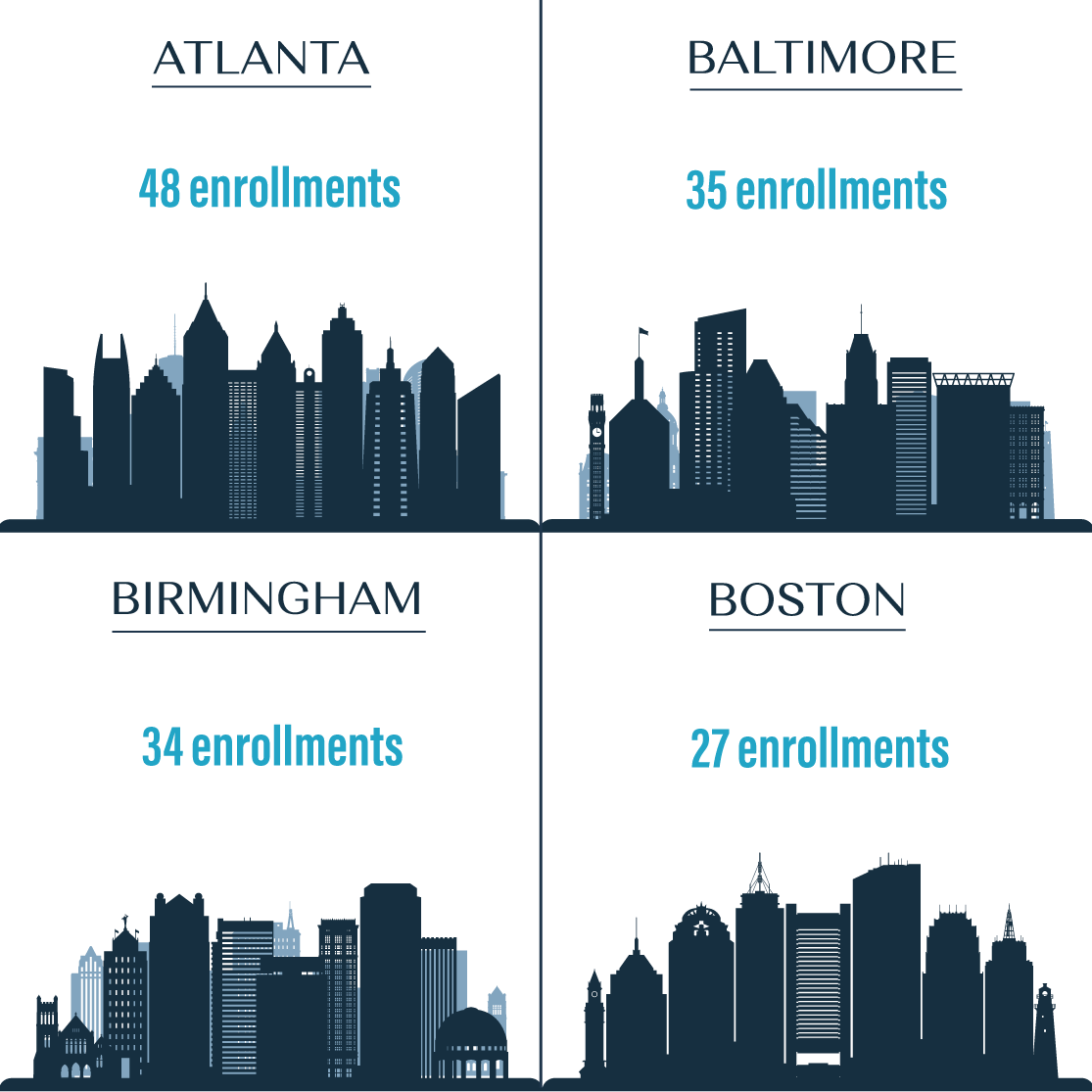 Of the 1,305 MSM and TGW screened at four U.S. sites, 144 study participants were enrolled.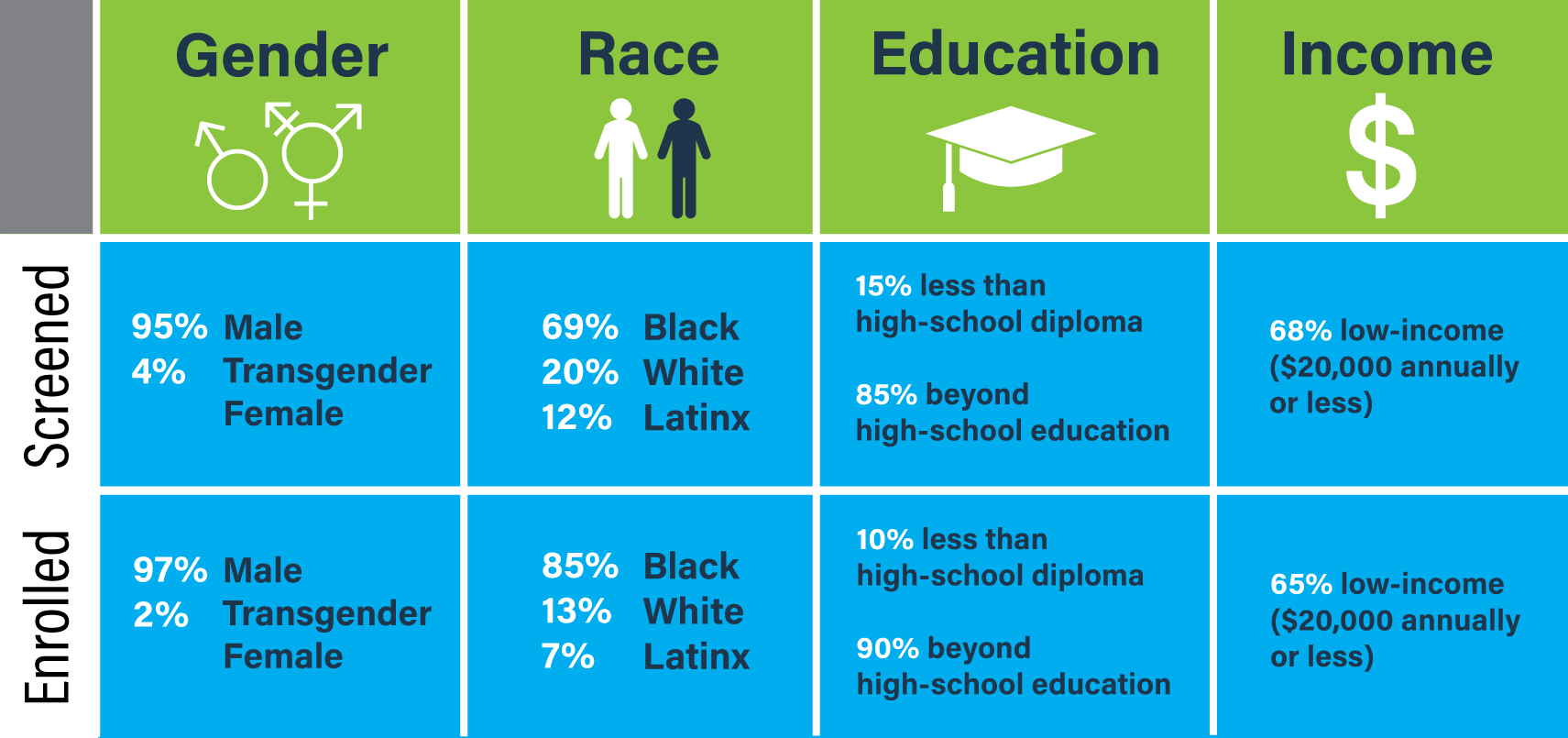 Nearly all participants who were screened (95%) and enrolled (97%) identified as male. A majority were African American (69% screened, 85% enrolled), had education beyond high-school (85% screened, 90% enrolled), and had an annual income of $20,000 or less (68% screened, 65% enrolled).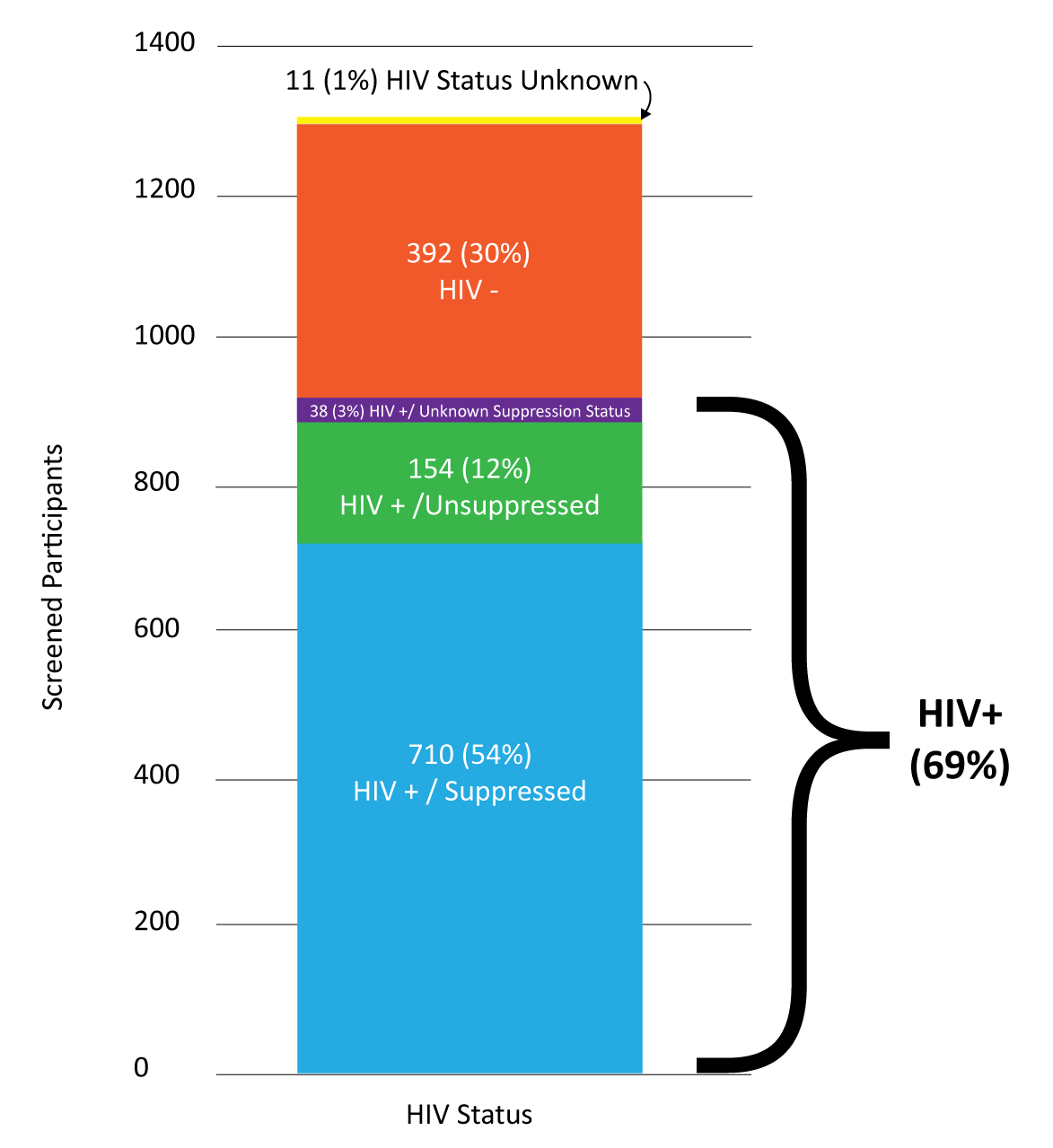 Overall, 902 of the 1305 screened participants were living with HIV. 144 (94%) of the eligible 154 people living with HIV who were not virally suppressed were enrolled into the study. Screened participants living with HIV who were virally suppressed (710 people) were not eligible for HPTN 078.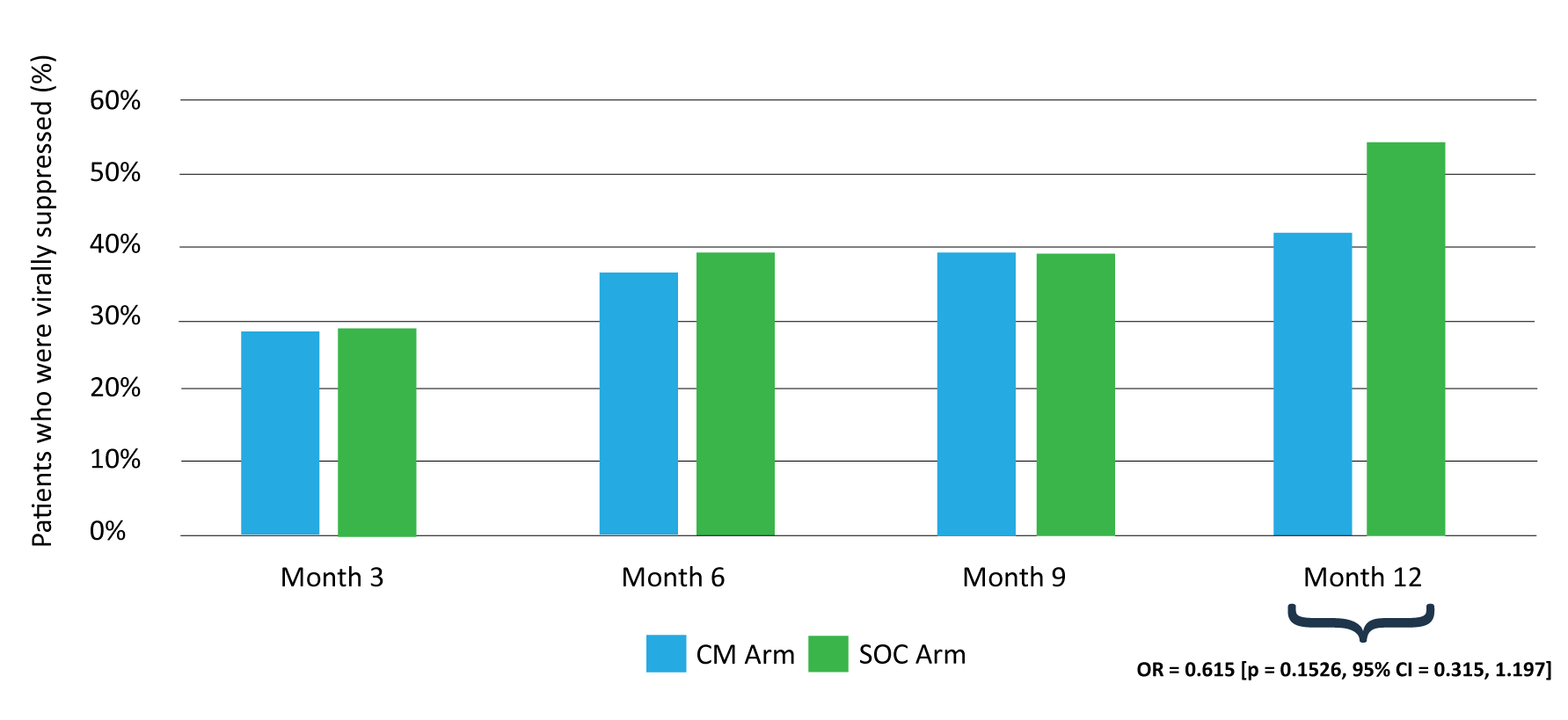 After one year, 91 percent of the participants remained in follow-up in the study with 48 percent achieving viral suppression. However, there was no difference in viral suppression noted between participants who received the case management intervention and those who received the standard of care.

There was an increase in overall viral suppression over time – 28 percent at 3 months, 36 percent at 6 months, 39 percent at 9 months.