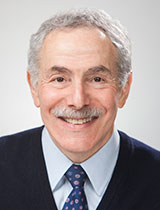 Dr. Ken Mayer trained in Internal Medicine at Beth Israel Hospital and in Infectious Diseases and Molecular Epidemiology at Brigham and Women's Hospital. As the founding Medical Research Director of Fenway Health, he created a community health research program that has developed an international reputation for its capability to conduct community-based research.
He is currently a Professor of Medicine at Harvard Medical School, a Professor in Global Health and Population at the Harvard TC Chan School of Public Health, and Attending Physician and Director of HIV Prevention Research at Beth Israel Deaconess Hospital.
Starting in 1994, he has been a site Principal Investigator of NIH-funded HTVN, HPTN, MTN, and ATN clinical trials units, focusing on bio-behavioral HIV prevention research, and a member of the scientific leadership of HPTN and HVTN. He has co-authored more than 1,000 peer-reviewed publications, co-authored the first text on AIDS for the general public and has co-edited 5 academic texts. He has served on the national boards of amfAR, HIVMA and GLMA; was a member of the CDC/HRSA HIV/AIDS Advisory Committee and was a member of the Governing Council of the International AIDS Society. He is an Editor-in-Chief of the Journal of the International AIDS Society and serves on the PEPFAR Scientific Advisory Board.