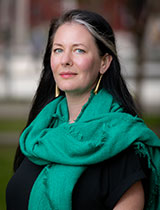 Dr. Laramie Smith is an assistant professor in the Division of Infectious Diseases and Global Public Health at the University of California San Diego School of Medicine. She earned her doctorate from the University of Connecticut as a NIMH-funded F31 pre-doctoral scholar and completed her postdoctoral training as a NIDA-funded T32 postdoctoral fellow in Substance Use, HIV, and related infections.

Dr. Smith has 15 years' collaborative research experience with public health and community partners. As a social psychologist, she applies social and behavioral theory, from a public health perspective, to examine individual and socio-structural contexts (e.g. stigma, substance use, social network characteristics) implicated in improving health equity among people living with HIV (PLWH) and substance-involved communities. Her work aims to advance theoretical contributions to HIV science and reduce HIV disparities.

More recently her NIDA-funded community-engaged research has focused on improving engagement in the HIV prevention and care continuums for substance-using and other medically vulnerable key populations in Mexico (persons who inject drugs or engage in sex work, and men who have sex with men [MSM]), and syndemic-affected cis and transgender women in the U.S. Across this body of work, she aims to identify ways intersectional stigma, discrimination, and other sociostructural factors (e.g. violence, social support, transportation- and access-related barriers) can be intervened on to improve HIV prevention and treatment environments in resource-constrained settings.