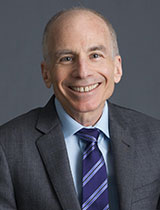 Lawrence O. Gostin is University Professor, Georgetown University's highest academic rank, and Founding O'Neill Chair in Global Health Law. He directs the World Health Organization Center on National and Global Health Law. Gostin is Professor of Medicine at Georgetown University and Professor of Public Health at Johns Hopkins University.

The WHO Director-General appointed Prof. Gostin to high-level positions, including expert panels on the International Health Regulations (IHR) and on Mental Health. He served on the Director-General's Advisory Committee on Reforming WHO, as well as WHO expert advisory committees on pandemic influenza, smallpox, genomic sequencing, and migrant health. He served on WHO's Blue Ribbon Panel on global health equity. He co-chairs the Lancet Commission of Global Health Law.

Professor Gostin served on two global commissions on the 2015 Ebola epidemic. He was senior advisor to the UN Secretary General's post-Ebola Commission. He served on the drafting committee for the G-7 Summit agenda in Tokyo 2016 on global health security and Universal Health Coverage.

Prof. Gostin holds international professorial appointments, including at Oxford University, the University of Witwatersrand (South Africa), and Melbourne University. He holds honorary degrees from the State University of New York, Cardiff University, Sydney University, and the Royal Institute of Public Health. Prof. Gostin is Legal and Global Health Editor, Journal of the American Medical Association.

Prof. Gostin is an elected lifetime Member of the National Academy of Medicine, and currently serves on the Academy's Global Health Board. The National Academy, American Public Health Association, and New York Bar Association have all awarded Gostin their Distinguished Lifetime Achievement Awards. In 2016, President Obama appointed Prof. Gostin to the President's National Cancer Advisory Board. He serves on the National Institutes of Health Director's Advisory Committee on the ethics of public/private partnerships to end the opioid crisis.

Prof. Gostin's book Global Health Law (Harvard University Press) is read throughout the world—translated into simplified and traditional Chinese, Korean, and Spanish.