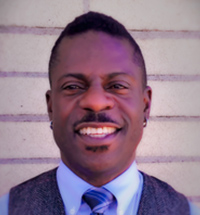 Christopher Hucks-Ortiz, MPH, is an evaluation specialist and currently works at JWCH Institute, a federally qualified health center (FQHC) in Los Angeles, California. He uses his expertise in the community-based HIV prevention research to assess the impact of federally-funded protocols on disenfranchised communities. 
How did you first get involved with the HPTN?
I first got involved with the HPTN in 2008 as a Project Director on HPTN 061. After HPTN 061 was completed, I continued to be engaged in the HPTN as a member of the Black Caucus and as a Community Liaison at the UCLA Vine Street Clinic CRS for the HPTN 073 protocol. I have been involved with the Community Working Group (CWG) for the HPTN for several years and serve as a member of the CWG Executive Committee and the Scientific Review Committee (SRC). I currently serve as the Chair of the HPTN Black Caucus.

What do you find most challenging about the work you do in support of the HPTN?
I appreciate the opportunities to support the work of the HPTN. What challenges me is thinking about new models to engage communities at risk for HIV acquisition to inform prevention strategies for the Network. Thankfully, the HPTN is committed to ensuring that the community voice is a strong component of how study concepts and protocols are developed and implemented. I feel very lucky to be a part of such a talented group of scientists, advocates and activists who do this work with passion. 

What do you think will change about HIV prevention over the next five years?
One thing I have been thinking a lot about is the integration of biomedical prevention methods with behavioral approaches in combination. I think that as we have more options for biomedical prevention, it will become even more critical to ensure there are the appropriate additional intervention components that support engagement and retention while addressing social determinants of health and structural factors as well.

What do you wish other people knew about your work?
As a Community-based member of the Network, remaining fully engaged can often feel like a second job, but it is worth making the time for. Having the opportunities to work on HPTN studies and provide cultural expertise to the Network is something that I feel very passionate about. I feel honored to be a part of this work. 

What might (someone) be surprised to know about you?
Most people would never guess I spent eight years of my life in the United States Air Force. That, or that I sang in several choirs. Now I save my singing for karaoke. 

What do you do when you aren't working?
Depending on who you ask, there would be some conversation about whether or not that ever actually happens. However, when I do have time off, I enjoy traveling with friends, live music, and time with my kids (cats).