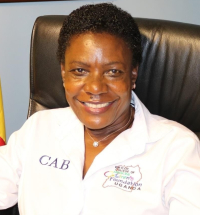 Cissy Ssuuna, an HPTN Community Working Group member and HPTN 084 protocol representative, is a community educator at the Baylor Uganda Clinical Research Site in Kampala, Uganda. Working in HIV/AIDS prevention for almost 20 years, she has vast experience overseeing community engagement programs, outreach, training on sexual health, adolescent and youth health, and liaising with research investigators and program managers to link them with targeted communities. Cissy has a degree in social work and social administration, and a diploma in counseling and guidance and nursing.  
What attracted you to a career in HIV prevention research?
I grew up into womanhood, seeing people from our communities in Uganda and beyond, suffering from HIV/AIDS, which motivated me to become an activist in the fight against HIV/AIDS. I began advocating for free antiretroviral treatment for people living with HIV. Then, I knew it was time for me to help HIV negative women, especially adolescent girls and young women who are the most vulnerable and prone to HIV/AIDS, to have HIV prevention choices. Focusing on women means focusing on families. I directed my efforts to support HIV prevention research that enabled different HIV prevention tools for women, so they have more choices.
What would you say most motivates you to do what you do?
As a social worker, counselor, advocate, and community educator, I am motivated by seeing my activities affect real-life settings. Advocacy and research take time to yield results. However, we need to celebrate even the smallest achievements when they unfold. For example, I remember celebrating a discordant couple after the female partner started using oral pre-exposure prophylaxis (PrEP). It motivates me to do more to save others even if it's one life.
What has been one of your proudest moments as a member of the HPTN?
My proudest moment came when I presented at the 2019 HPTN Annual Meeting. I shared best practices from our site. What made me happy and satisfied was to hear others referring to the presentation and acknowledging our work. It was rewarding to see our community team's hard work meant a lot to so many people.
Who has been the most significant influence in your career? Why?
Two people influenced and shaped me to become who I am today. First is my father, who, despite community backlash, educated me instead of marrying me off at a young age. He showed me I have rights and need to be an advocate for my rights and the rights of children. Second, I met Emily Bass in 2001 at a conference on global strategies for the prevention of mother to child HIV transmission. She showed me what it is to save a life from HIV infection, which had a significant influence on me professionally. Emily Bass has been a lifelong mentor. 
What inspires you?
Innovative HIV research programs. I recall a time when living with HIV/AIDS could be a death sentence. I lost family members to the disease. So, I get inspired every day, seeing the impact of implementing HIV prevention and treatment programs. I am hopeful and inspired to see children who are born HIV free to mothers living with HIV; high-risk people using PrEP, and now the possibility that an injection could be used by high-risk men and women to prevent HIV. All these inspire me to be more active in educating communities about HIV/AIDS prevention and treatment.
What volunteering or passion projects do you do outside of work?
My passion for marginalized and vulnerable adolescents and youth in my community has been a driving force in my volunteering activities. Volunteering in various communities gives me an inner comfort and a way to serve God. I volunteer for my church to visit sick members in the hospital or prison; I have a small school fee program for the most vulnerable girls, and by sharing clothing and household items with the needy families, especially pregnant adolescents, I try to support them to have a hopeful start-up.