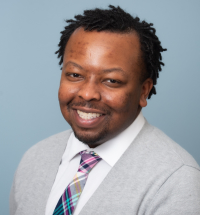 DeMarcus Jones is an HPTN 083 and HPTN 083-01 outreach recruiter at St. Jude Children's Research Hospital in Memphis, TN. As a native Memphian, he continued his studies at the University of Memphis. With more than seven years of experience working in HIV prevention and community engagement, his mission is to continuously engage and mobilize LGBTQ individuals in the Memphis and surrounding areas and support HIV prevention research uptake progression.
What attracted you to a career in HIV prevention research?
I was attracted to HIV prevention research because of the promise that there are resources out there that can truly change many LGBTQ individuals' lives. For many, including myself, there were no advocates, support or medicine to prevent HIV. One day I decided that I wanted to be one of those champions who could potentially save my community. 
What would you say most motivates you to do what you do?
My motivation comes from my desire to change the imposed narrative of black LGBTQ individuals. I feel as though part of my calling is to provide a space for us to heal, empower ourselves and to thrive simply as the beautiful beings we are by any means necessary. 
What has been the biggest challenge working in HIV prevention research?
The biggest challenge for my work in HIV prevention research is understanding that everyone is not going to be on board with what you're selling. Volunteers must truly be engaged to participate in research. We, as community educators and recruiters, must respect their wishes despite our desires. However, it's also our job to support them when they come back around as well. Understanding this has indeed been a blessing regarding working in HIV prevention research.
Who has been the most significant influence in your career? Why?
The most significant influence in my career has been Dr. Carla London at St. Jude Children's Research Hospital. Dr. London has supported me and my career in HIV prevention for almost ten years. She continues to be my biggest cheerleader. The work she does truly inspires not only me but everyone she meets.
What volunteering or passion projects do you do outside of work?
One of my current passion projects is Headliners Memphis. Headliners Memphis is a community group created to celebrate, educate and mobilize LGBTQ individuals of color though entertainment and special programming. As the chair of this group, it provides me a creative space to uplift and unify my community by amplifying our voices. 
What is your guilty pleasure?
Since COVID-19, my guilty pleasure has been my growing green thumb! I am currently a plant daddy with more than 20 plants. The journey to plant-daddyhood has been an amazing and beautiful addition to my self-care. I can't stop buying them.