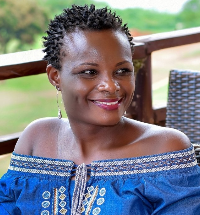 Doreen Kemigisha, MPH, a member of the HPTN Community Working Group (CWG), is a senior health visitor, community educator, and qualitative coordinator at Makerere University – John Hopkins University (MU-JHU) Research Collaboration based at Mulago Hospital Complex in Kampala, Uganda. She has worked with MU-JHU since 2009, carrying out participant recruitment and retention activities for the HPTN and the Microbicide Trials Network.
What aspect of your role do you enjoy the most?
As a community educator, I enjoy educating community folks about HIV risk and prevention, community myths, and misconceptions about HIV. It is interesting when you try to address community concerns/reactions about a new HIV prevention method that is under research. For the part of health visiting, I feel happy when a participant who is planning to relocate or travel temporarily calls to let the clinic know their intended plans. This makes me think that the participant understood her participation in the research. In addition, the qualitative component is the most interesting as you get to the in-depth social and contextual factors that influence an individual's study participation in research.
What would you say most motivates you to do what you do?
Sharing study information and findings in the community and interacting with different populations motivates me the most. I am passionate about educating communities on available prevention options and services that individuals may not know about or have heard about but still have concerns.
What has surprised you most about working in HIV prevention research?
It is surprising how you interact with an individual in the community. Using a pre-screening checklist, you notice that this individual is at risk of contracting HIV, yet she does not perceive herself as at risk.
Despite multiple players involved in HIV prevention community sensitization, a significant knowledge gap still needs to be tackled.
What has been one of your proudest moments as a member of the HPTN?
One of my proudest moments occurred when sites were requested to suggest names for the HPTN 084 study and LIFE (Long-Acting Injectable for the Epidemic), an acronym presented by Teopista Nakyanzi at our site, was selected. I felt very proud to be associated with such an achievement, especially since this was my first HPTN study work. Another proud moment was when CAB-LA effectively prevented HIV acquisition, adding another option to the prevention basket.
What inspires you?
Walking the journey and witnessing the research and approval of new HIV prevention methods, which I have been part of, and the promising progress of developing multi-purpose technologies (MPTs) to help in the simultaneous prevention of HIV, pregnancy, and other sexually transmitted infections.
What has been the most unusual or interesting job you've ever had?
Working as a primary school teacher during my high school break and as a waiter in a pub as a part-time job while pursuing my bachelor's degree.