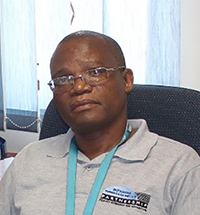 Ernest Moseki is a community engagement coordinator at the Gaborone CRS in Gaborone, Botswana. He is currently a member of the HPTN Community Working Group Steering Committee and the HPTN 075 protocol team. Ernest is the first regulatory and administrative coordinator for the Botswana CTU. He also provides technical and administrative support for the local Community Advisory Board (CAB). Ernest holds a post-graduate diploma in International Research Ethics from the University of Cape Town in South Africa.
How did you first get involved with the HPTN?
When the HPTN 052 site selection was done, our site (Gaborone CRS) was not among those selected to implement the study. However, during the course of the study, our site was asked to join since we had experience in working with serodiscordant couples. I was the regulatory coordinator for our site and worked with the ethics review committees for submission of the study documents, and was asked to take up the community educator role as well. It is from then on that I worked with the most amazing team that supports sites in the implementation of studies.
What do you find most challenging about the work you do in support of the HPTN?
The HPTN is well known for community involvement during study development. So, community members (I am a community member) are often asked to provide feedback and/or input on concepts. This is often a challenge because of the technical language used and often, it is not easy to seek clarification from the proposing team in real time.
What do you think will change about HIV prevention over the next five years?
The current buzzwords within the HIV prevention circles are antibodies and long-acting antiretrovirals. There are a number of open studies and several in the pipeline that are advancing research with these two products. It is my belief that for the next five years we will see the advancement of research with these products and possible licensing of them. I do hope our communities will not be left behind but will continue to be educated and involved as these important advancements are made.
What do you wish other people knew about your work?
Community education is very interesting and gratifying. There is always something new to learn. Working with community members allows me to appreciate diversity in perceptions, differences in knowledge and attitude, and the enthusiasm with which communities support and appreciate clinical trials.
What might someone be surprised to know about you?
That I am actually a school teacher and I taught for four years but later studied international research ethics. Also, I was actually born and raised in South Africa.
What do you do when you aren't working?
I jog and coach netball.