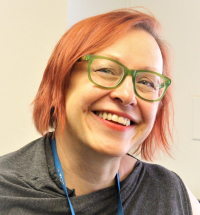 Estelle Piwowar-Manning, MT, is the deputy director at the HPTN Laboratory Center and director of the Quality Assurance/Quality Control (QA/QC) core at Johns Hopkins University (JHU) in Baltimore. She is a medical technologist specializing in immunology with more than 25 years' experience in HIV diagnostics, Good Clinical Laboratory Practice, CLIA/ISO standards as well QA /QC at both domestic and international sites. Estelle oversees the LC QA core and is a protocol team member of several HPTN studies.
How did you first get involved with the HPTN?
I worked for Dr. Brooks Jackson, HPTN 027 U.S. protocol co-chair, at Case Western Reserve University in Cleveland and was supporting and supervising laboratory activities in Kampala, Uganda at both the CWRU/UCSF laboratory and the Joint Clinical Research Centre laboratory. I helped both laboratories set up CD4 testing as well as HIV ELISA and p24 Ag testing. When Dr. Jackson moved to become the director of clinical affairs in the Department of Pathology at Johns Hopkins University, I moved with him to Baltimore to supervise the new JHU ACTG processing lab as well as the Johns Hopkins Hospital HIV-related testing lab. I later got involved in overseeing the PACTG processing lab. It was around this time when the first round of HPTN studies was taking shape, so I have been involved from the start.
What do you find most challenging about the work you do in support of the HPTN?
The biggest challenge is that no two days are the same and each day presents new challenges and unexpected events. This makes it harder to plan the day.
What do you think will change about HIV prevention over the next five years?
Hopefully, there will be more injectable products, different options to provide prevention for different risk groups, better educational campaigns, and maybe even a breakthrough that will get us to a cure.
What do you wish other people knew about your work?
I wish people knew more about the fantastic team I work with daily at the HPTN (QA core) LC. There are quite a few people who work hard behind the scenes that take care of the day to day aspects of the lab including sample management, query resolution, testing and ensuring that sites have the support they need to run HPTN clinical studies.
What might someone be surprised to know about you?
I was a mathlete in high school and a majorette in college, and I love to binge-watch ION TV, especially NCIS Los Angeles, NCIS New Orleans, old Law and Orders, and Criminal Minds.
What do you do when you aren't working?
Besides traveling, you can find me walking my dog and taking yoga classes. I also enjoy cooking and baking. I am also a beta tester for Fitbit. Right now, I am beta testing as part of the Healthy Habits community.