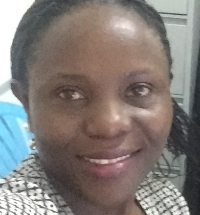 Gertrude Nanyonjo, an HPTN 084 Community Working Group member, is the community engagement lead and a senior social sciences coordinator at UVRI-IAVI HIV Vaccine Program in Entebbe, Uganda. She initially worked on an HIV prevention program focusing on youth and adolescents at risk of acquiring HIV in a busy rural center in Southwestern Uganda (Rakai District), where the first HIV case was identified. Nanyonjo has been active in HIV prevention clinical trials and socio-behavioral studies. She is a chairperson for the Uganda National Cross-CAB network, bringing together community advisory board members from several Ugandan research institutions.
What attracted you to a career in HIV prevention research?
Having lost my parents due to HIV at a tender age, I heard several stories on HIV from Rakai District, where the first HIV case was identified in Uganda and where my mother originated. I always looked towards supporting HIV prevention efforts, as I never wanted any other child to go through my experience. My research career began when I joined the Salama SHIELD Foundation as the Program Officer in charge of Health and HIV prevention projects for adolescents and youths. While at the Foundation, I conducted my first study focusing on the perception of the mentorship system (Ssenga-Kojja) in preventing HIV and AIDS among young people, focusing on the Lyantonde District in Western Uganda. From there, I got interested in joining the UVRI-IAVI HIV Vaccine program as the Social Sciences Coordinator to oversee the qualitative aspects of studies, stakeholders, and community engagement.
What aspect of your role do you enjoy the most?
Engaging stakeholders and community members to ensure ethical and compassionate treatment of community members to maximize their support for research activities.  Carrying out ongoing liaising and engagement with communities to provide a supportive environment for current and future HIV prevention research.
What would you say most motivates you to do what you do?
Working on HIV prevention studies/projects that bring change to society and produce new technologies that help vulnerable populations from acquiring HIV. A case in point is HPTN 084.
What has been the biggest challenge working in HIV prevention research?
Working with communities whose behaviors are tough to change, for instance, very mobile populations. Translating research findings into policy.
What inspires you?
Working with communities that are receptive and understand their problems; this maximizes their support for research activities and ensures a supportive environment for current and future research.
What advice do you have for new HPTN members?
Engaging and involving communities before, during, and after trials/studies are paramount for research acceptability and continuity, not forgetting the HIV vaccine and cure work that will contribute to a world without HIV.