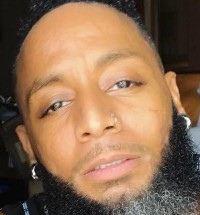 Jaasiel Chapman, a member of the HPTN 083 Community Working Group, is a clinical research community educator at the University of Cincinnati Infectious Diseases Center in Ohio.
What attracted you to a career in HIV prevention research?
In the early 2000s I had two very close friends pass away from HIV. I saw how the church and society shunned them. I became motivated to prevent someone else from experiencing the pain that I saw them go through. Also, as a Black gay man, I knew the risk of me contracting the virus was extremely high. I started to advocate for people like me, which eventually opened the door to a career I never knew I wanted.
What would you say most motivates you to do what you do?
The thing that motivates me the most is the interaction with people. I love being able to educate individuals to have the tools to make the best-educated decisions surrounding their health. It gives me great pride to know that I'm helping someone.
What has been one of your proudest moments as a member of the HPTN?
My proudest moment as a member of the HPTN was the number of participants we enrolled at the University of Cincinnati. It was the first prevention study conducted at UC, and we were so proud to know that we were doing our part in preventing the spread [of HIV] in dozens of lives. Our goal was to enroll 50 people, and we enrolled almost 80!
What has been the biggest challenge working in HIV prevention research? 
The biggest challenge working in HIV prevention research is the stigma. There is still so much misinformation in communities, and sometimes it isn't easy to provide accurate information. I genuinely believe that the more we erode the stigma surrounding HIV, the faster we'll get to eradicating the epidemic.
What volunteering or passion projects do you do outside of work? 
My passion project outside of work is politics. I've worked on several political campaigns and have been campaign manager for two city council candidates. They both won, by the way.
What has been the most unusual or interesting job you've ever had?
The most exciting job I've had was being a recording artist. I was a founding member of the gospel group 21:03. We were signed to Sony Records. I left the group before the first album came out. They have since gone on to win multiple awards and even have a Grammy nomination. Being in the studio with the legendary gospel artist J. Moss is one experience I am eternally grateful for and will never forget.