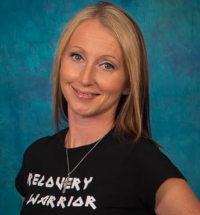 Jessica Yeager is a national and Texas state-certified peer recovery support specialist. She is currently a peer support services supervisor for HPTN 094. Jessica is an influential recovery community leader who thrives on innovative change to create purpose in our broken system, stomp out stigma, and help others heal while delivering the message of hope. 
What aspect of your role do you enjoy the most? 
I enjoy working with individuals on the frontlines and pulling those suffering from active addiction into a long-term recovery solution. Nothing is more powerful than being the light in the darkness and navigating individuals to services. I have the privilege of walking with individuals through all stages of their recovery with no judgment. There is power in lived experience and connecting those struggling to resources to help them.
What would you say most motivates you to do what you do? 
What motivates me most is that I have lived experience and that someone else once held their hand out and navigated me to resources so I could live a productive life. I know it is possible to get help. It is incredible to have an opportunity to provide services immediately to those struggling; this is what we call the Recovery Movement. I am highly motivated to help educate the community and bring awareness to free solutions, saving one life at a time. 
What has been one of your proudest moments as a member of the HPTN? 
One of my proudest moments is witnessing our team assisting an individual full circle, the peer navigators referring the individual to community resources, and the clinical staff assisting with medical needs. We had a homeless individual who sought services on the mobile unit, who is now going to school and maintaining sobriety. We have several success stories now and being able to witness success for the first time on Project Integra is the payoff behind the passion and purpose of the Recovery Movement. 
What has been the biggest challenge working in HIV prevention research? 
The biggest challenge is finding the population currently living with HIV. Honestly, I did not think we would have such a challenge finding this population using substances. We are constantly trying new avenues to reach those who inject substances and live with HIV. Bringing awareness to the community is critical. 
What inspires you? 
I have been personally fighting for custody of my daughter against the State of Texas since 2016. I am currently in the appeal courts, praying for justice. Child Protective Services (CPS) stigmatized me because I struggled with addiction, even though I sought therapeutic services and have been clean and sober. I fight for human rights for all and help bring awareness and education to the community. My daughter motivates me every day. 
What volunteering or passion projects do you do outside of work? 
I have a bicycle club called the Recovery Rollers, created in 2017. The club promotes positive living after active addiction and is a safe place to fellowship and connect with the community. Also, I am a birth parent advocate who fights for parental rights and stands for parents who are in long-term recovery. 
What is your guilty pleasure? 
I love to eat raw cookie dough. LOL