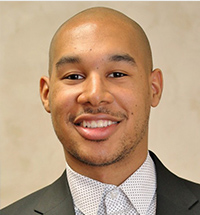 Louis Shackelford is a community education coordinator at the Harlem Prevention Center CRS in Harlem, New York. He is responsible for fostering partnerships with community-based organizations, serving as a liaison and conducting educational activities for the community around research and sexual health.
1. How did you first get involved with the HPTN?
I started my career in the HPTN as a member of the HPTN 061 (BROTHERS) Study. This was my first experience doing HIV prevention work. At the time, I had little more than a passion for helping people in my community, so I was brought in as a Peer Community Navigator. As a Peer, my role was to support participants enrolled in the study with referrals to services as needed, advocacy when necessary, or just a listening ear. As a lifelong Harlem resident, it was (and remains) a pleasure serve the community which birthed me, by helping men and women like myself.
2. What do you find most challenging about the work you do in support of the HPTN?
Finding ways to demonstrate how much we appreciate our participants is, by far, the most challenging part of my work. We do not have the resources to thank participants enough, this is especially true between studies when funding stalls. Our participants not only shape our studies; they also help to better us as people. While our staff does an impeccable job of creating a warm, welcoming environment, and meeting participants' needs through study activities; these things will never be enough to express our gratitude for all the life stories that have been shared, all the time and bodily material entrusted to our good intentions and, most of all, the willingness to respond to our helping hands with open arms.
3. What do you think will change about HIV prevention over the next five years?
I think injectable forms of HIV prevention will gain prominence as a preferred prevention method. At a recent Community Advisory Board meeting, a PrEP program specialist told the story of her experience offering PrEP to a couple. While one partner welcomed PrEP as a prevention tool, the other declared bluntly: "I'm not taking any pills, call me when you have a shot for that!" To me, this interaction is not only evidence of the need for new HIV prevention modalities, but also of a latent, greater than expected acceptability of injectable prevention tools within communities.
4. What do you wish other people knew about your work?
I wish people knew how much our leaders at the Harlem Prevention Center (HPC) set the tone for our site's culture of service and support. HPC has the distinguished pleasure of being shepherded by Dr. Sharon Mannheimer and Dr. Wafaa El-Sadr. Not only do these two dynamic women have a reputation of excellence in their work combating HIV, but the humility and heart that they exude while seeking to help others is an immense source of inspiration. This is evident whether they are interacting with study staff or participants. Without leaders of this caliber, we would not have achieved the success attained thus far.
5. What might (someone) be surprised to know about you?
I was once somewhat of a rocket scientist. In college, I worked for a summer assisting a rocket scientist in the development of an alcohol-gel fueled rocket system, with thrust throttling capabilities. I was not there long enough to see the results of our work, but I will never forget the thrill of blowing things up for the sake of science.
6. What do you do when you aren't working?
I love technology and understanding technological innovations. Thus, in my free time, I find myself reading tons of tech blogs and websites to learn about what's new. Otherwise, I spend time engaging in local politics through my democratic club in Harlem, or teaching math to high school students in my aunt's SAT program. I also enjoy attending sports events, and concerts for rising