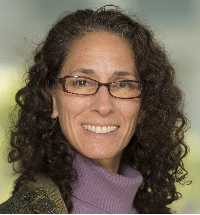 Dr. Manya Magnus, District of Columbia clinical trial unit leader, has been site principal investor for HPTN 083 among other HPTN studies, since 2008. She is a professor and interim chair of the Department of Epidemiology at the Milken Institute School of Public Health at George Washington University in Washington, D.C. Dr. Magnus is also the co-director of the school's M.P.H. Epidemiology Program and co-director of the Clinical and Population Sciences Core of the NIH-funded District of Columbia Center for AIDS Research (DC CFAR). Dr. Magnus received her B.A. in social psychology from the University of California, San Diego, and her M.P.H. and Ph.D. in epidemiology from Tulane University in New Orleans. She also earned a nursing degree (L.V.N.) from the College of the Redwoods in Eureka, Calif. 
What attracted you to a career in HIV prevention research?
I was interested in HIV initially since I grew up in the Bay Area in the 1980s and was close to many people early on who had HIV, many of whom are no longer with us. So, I knew I wanted to work in the HIV field but did not know precisely how. I was very fortunate that one of my first jobs was as a quality assurance coordinator with the Pediatric AIDS Clinical Trials Unit at Tulane University. Before that, I did not know about clinical trials, nor did I know about epidemiology. (This was back long ago when people did not learn about public health or epidemiology specifically; many people thought epidemiology was the study of the skin, mistaking it for dermatology! A mistake unlikely to happen in this COVID-19 pandemic era.) The principal investigator was a wonderful mentor and thought I would like the mathematical elements of epi, so he suggested I attend a class at Tulane. After my first outbreak investigation case, I was hooked. Not long after that, the ACTG 076 findings came out. I will never forget the unblinding of the pregnant women on the study at our site and seeing first-hand that one clinical trial could do so much to help people on the population level around the world, changing the landscape forever for women and their children. After that, I couldn't leave the field; I finished my M.P.H. and then went on for a Ph.D. in epidemiology at Tulane with a focus on HIV.
What aspect of your role do you enjoy the most?
I still love clinical trials! The methodology is so stunningly elegant, and HIV prevention studies with the HPTN are especially so since they have a profound public health impact to prevent HIV now and into the future. I have been working with HPTN since about 2008 and find the collaboration between investigators, communities, staff, participants, and sponsors is incredibly exciting; the Network allows connectivity between people both locally and globally as we share a mission to prevent HIV. I think this collaboration is what I enjoy the most.
What would you say most motivates you to do what you do?
I continue to hope for a day when we can prevent HIV acquisition. I play a small role in the HPTN but teaching others to do this work and continuing to do it better each day motivates me since I believe that we can achieve this goal together.
What has been one of your proudest moments as a member of the HPTN?
I was so proud when the HPTN 083 study findings came out and were shared with our team and our community. Now that injectable cabotegravir has just been FDA-approved, it is especially thrilling! Sharing that a study we have worked on here at the GW HPTN CRS found an innovative approach to HIV prevention that is so effective was terrific. We work with many graduate students in epidemiology; I hope being a part of this remarkable accomplishment and finding injectable cabotegravir works to prevent HIV will influence their career paths, much as seeing azidothymidine (AZT) prevents perinatal infection influenced mine.
What has been the most unusual or interesting job you've ever had?
I am fortunate to have had many exciting jobs along my professional journey. However, I would have to say that working as a nurse in a Northern California jail at 24 was one of the most unusual in terms of the density of experience – every shift was its own adventure – I learned so much. It taught me a great deal about life and humanity and sealed in the understanding that everyone deserves patience and kindness, no matter the circumstances. 
What is your guilty pleasure?
Taking a ballet class. I'm not very good, but I love it anyway. I am the lone scientist in a family of artists (my husband is a poet, my daughter a singer-songwriter, and my son an actor-filmmaker), so I had to find some artistic outlet! I can't wait to get back to the studio and dance again, as the pandemic has gotten in the way.