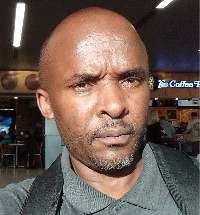 Mduduzi Ngubane, an HPTN 084 Community Working Group member, is a community liaison officer with the South African Medical Research Council, based at the Isipingo Clinical Research Site (CRS) in Durban, South Africa. Ngubane actively advocates for community engagement at the provincial, district, and ward levels in KwaZulu-Natal, including the Provincial AIDS Council (PCA), Operations Sukhuma Sakhe (OSS), and civil society.
What attracted you to a career in HIV prevention research?
At first, it was an employment opportunity. I was introduced to qualitative work by conducting interviews about HIV knowledge and perceptions. I noticed there was a lack of information and a dominance of misinformation. I saw the opportunity to highlight the need for outreach programs to help reduce the number of new infections. I became empowered to mobilize communities with conviction through training workshops provided by affiliated networks, including the HPTN.
What aspect of your role do you enjoy the most?
I enjoy leading a community engagement program and training Community Working Group members so they can fulfill their roles in a meaningful manner. I also enjoy being a voice for other community educators by sharing best practices.
What would you say most motivates you to do what you do?
Seeing people make informed decisions to participate in clinical studies after being recruited by myself and the team I support. Also, getting positive feedback from community members feels good. It keeps me motivated to do more.
What has surprised you most about working in HIV prevention research?
Working with study volunteers involves profiling your community, understanding the need to translate research for broad audiences, educating volunteers about their rights, and getting community buy-in. It is interesting to know how people care about volunteering for research studies. We support study participants the best we can while the study is ongoing and disseminate results once a study ends. It is possible to find safe and effective interventions with adequate community engagement.
What has been the biggest challenge working in HIV prevention research?
The work cannot be done overnight; it needs dedicated individuals with moral integrity to conduct research ethically. The struggle to end AIDS is still a challenge, but we have a more comprehensive range of prevention tools available. Scientists are working hard to find new tools, learning from past studies' failures, and looking at different approaches, such as broadly neutralizing antibodies (bNAbs) or the ongoing effort to develop a safe and effective vaccine.
What inspires you?
Knowing that I have enthusiastic people around me, i.e., my community team, who share the same drive to succeed. Having site leadership always willing to support our plans and engagement strategies gives us the courage to review and be innovative in what we do to improve outputs. Also, having a family that supports me as an individual and allows me space to work outside regular working hours.
What advice do you have for new HPTN members?
They need to be willing to learn as much as they can, be bold and ask whatever is not clear to them and be able to get support to be active members.