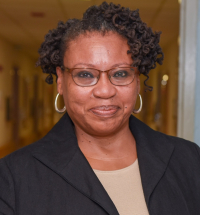 Melissa M. Turner, MSW, LICSW, MPA, chair of the HPTN Community Working Group and HPTN Executive Committee member, has been integrally involved in patient care management and HIV clinical trials for more than 20 years. She is a clinical social worker in the Infectious Diseases Section at the Veterans Affairs Medical Center in Washington, D.C. Melissa is also the community advisory board liaison at the George Washington University HPTN CRS and community engagement specialist for HIV research trials at the local and international level for U.S. National Institutes of Health-funded clinical trial networks. She recently joined the community working group for the newly formed COVID Prevention Network (CoVPN). Melissa specializes in community education, bridging the divide between science and community, and works to integrate community needs and perspectives in all aspects of clinical trial design from conception, implementation and results dissemination.
What aspect of your role do you enjoy the most?
I enjoy the diversity of people and the privilege of working with communities from around the world. I have grown from my experience learning how different communities perceive and respond to the challenges posed by HIV prevention. One size does not fit all, and we within the HPTN strive to honor the richness and diversity in the communities we serve.
What would you say most motivates you to do what you do?
A well-designed clinical trial informed by the community is the safest, fastest way to remedy scientific dilemmas. What can be more motivating than being a part of the systems moving the science forward toward answers that will provide a better quality of life? I remain highly motivated to play a role in research endeavors that saves lives.
What has been one of your proudest moments as a member of the HPTN?
My proudest moment as a member of the HPTN is right now. During the worldwide COVID-19 pandemic, the HPTN site staff strives to ensure participants' safety, share information on how to stay safe and provide tools to their local community. The resilience, creativity, bravery and grit of colleagues throughout the world are heroic.
Who has been the most significant influence in your career? Why?
The veteran patients I serve each day are a tremendous source of influence. These service members stood ready to sacrifice their lives for a greater purpose. They represent courage, dignity, grace, and sacrifice, and their example humbles me.
What advice do you have for new HPTN members?
Bring your lived experience to the research endeavor and boldly advocate for the needs of your community. You are the expert on the communities you serve, and we are looking to you to inform the scientific process. 
What volunteering or passion projects do you do outside of work?
For 20 years, I have been on the program board of Food and Friends, a local non-profit providing nutritional counseling, home-delivered meals and groceries to the local community's medically vulnerable. Food insecurity and food deserts are a real barrier to health and wellness, and facilitating access to a stable, healthy food source for all is a passion of mine.