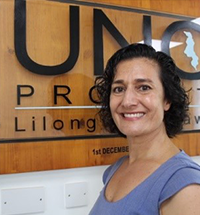 Mina Hosseinipour is HPTN 084 protocol co-chair and professor of medicine at the University of North Carolina (UNC) at Chapel Hill School of Medicine and the scientific director of UNC Project-Malawi in Lilongwe, Malawi. After completing her training in internal medicine, infectious diseases, and epidemiology, Mina moved to Lilongwe in 2001 to begin preparations for the HPTN 052 study. In the last 16 years, she has been active in HIV prevention and treatment studies through the NIAID networks as well as independent research. She is also active in training the next generation of Malawian investigators through the UJMT Fogarty Global Health Fellowship and other training programs.
Why is HPTN 084 important to you?
Women represent the largest group of new HIV infections in sub-Saharan Africa. If effective, HPTN 084 has the potential to be a game-changer for HIV prevention in women by providing a choice in prevention products. An injectable prevention product allows an easy, discreet, and female-oriented method that can help women stay uninfected. This puts a woman in control of her own future.
What do you find most challenging about the work you do in support of HIV prevention?
Probably the biggest challenge is related to the moving standard of care for prevention during the conduct of studies to ensure that our participants have the best proven prevention tools. Another challenge is translating the key findings to policy and program implementation. Although, I will say, the HPTN 052 findings were very quickly adopted.
What do you think will change about HIV prevention over the next five years?
There will be greater availability of pre-exposure prophylaxis (PrEP) with the currently-available Truvada® in the target populations. Of course, I hope that injectable cabotegravir will have been shown to be effective by HPTN 083 and HPTN 084. We will be looking at the next round of broadly neutralizing antibodies, and we will have positive results on the HIV vaccine front.
What do you wish other people knew about your work?
We succeed because we have an amazing team on the ground here in Malawi. My greatest pride is to see our Malawian trainees assume leaderships roles at UNC-Project and within the NIH-funded networks. It also rewarding to see how our program has been able to evolve and encompass a much broader global health agenda.
What might someone be surprised to know about you?
I created two wall murals out of locally recycled bottle caps to decorate our research building. One is a baobab tree at sunset and the other is a sunrise over lake Malawi. I'm excited that the range of bottle capped drinks is now expanding in Malawi so I can have more colors for my next project.

What do you do when you aren't working?
I'm a sports enthusiast so I love playing sports. I'm the chairperson for the Lilongwe Social Volleyball League and the Lilongwe Ultimate Frisbee® Club. My volleyball team has won the league eight of the last 10 seasons. My ideal holiday will have my Fitbit® active minutes going off the charts.