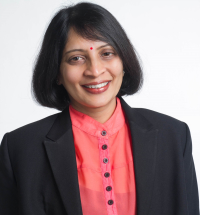 Neetha Shagan Morar, MS, is the senior research manager for the South African Medical Research Council (SAMRC) HIV Prevention Research Unit in Durban, South Africa. She is currently supporting three sites recently activated to conduct HPTN 084 and was a team member for HPTN 035 and HIVNET 020. Neetha has served on several committees including the MRC/info4africa KZN Community Forum, HIV/AIDS Network Coordination Community Partners group, MTN Working Group, HVTN Southern Africa Social and Behavioral Working Group, and the SAMRC Research Ethics Committee.
How did you first get involved with the HPTN?
Following the opportunity to coordinate the HIVNET 020 microbicide trial in the early 2000s, I was blessed to be part of the multicenter HPTN 035 vaginal gel microbicide trial. The results of this trial were disseminated under embargo in partnership with Community Working Group members and trial participants who were the true voices of their experiences with the gel. Community members and participants also shared their experiences and support of the research and gel with the media. This early HPTN experience contributed to our process of always informing community working group members and participants of trial results prior to public release. Thus, with HPTN 084, we aim to recruit ambassadors who are the voice for the study at the community and participant level.
What do you find most challenging about the work you do in support of the HPTN?
There are no challenges in research that cannot be addressed with collaboration, support and partnerships with community stakeholders, researchers and service providers. A challenge in HIV prevention research is when young women have the knowledge and access to prevention methods, but due to emotional, social and structural factors, acquire HIV infection. The other challenge is the delay in making effective products available and accessible to trial participants who contributed to the research outcomes due to the regulatory systems and budget constraints.
What do you think will change about HIV prevention over the next five years?
The current HIV prevention research landscape is evolving, especially with the availability of oral PrEP. Thus, moving forward, most HIV prevention research trials may move away from study designs that have a placebo arm. Researchers may also be working towards open label and demonstration studies, so effective interventions are user-friendly and sustainable. Our common global goal of reducing new HIV infections and promoting available treatment and prevention methods may contribute to the optimal and efficient use of limited resources and funding.
What do you wish other people knew about your work?
The research program at the SAMRC HIV Prevention Research Unit has empowered several women, couples and men to be the voices of HIV prevention biomedical interventions. This includes partners of women in microbicide research who publicly shared their experiences and support of the interventions at workshops, conferences and media. This peer training program, initiated by Gita Ramjee, PhD in 2005 now includes male trial participants, and with additional funding, will be a great tool to increase trial participant capacity.
What might (someone) be surprised to know about you?
I come from a family of empowered women. My mom became a single parent at 41 years old and she educated her four daughters. Between my three sisters and myself, we have eight daughters and recently blessed my mother with a granddaughter. 
What do you do when you aren't working?
Recently, I have dedicated time to our garden that was developed by my husband. Being with nature keeps me grounded and gives me peace. My philosophy is to feed my soul, mind and body.