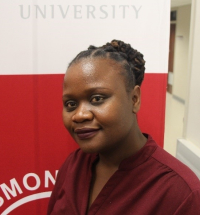 Nomtha Bell-Mandla, MPH, is a project manager and study coordinator at the Desmond Tutu TB Centre (DTTC) at Stellenbosch University in Cape Town, South Africa. She manages the South African Population Cohort (the longitudinal cohort being followed to measure HIV incidence and other outcomes in the study communities) for HPTN 071 (PopART), a community-based, randomized study evaluating the impact of a combination HIV prevention package on HIV incidence in 12 communities in Zambia and nine communities in South Africa. Nomtha is also a young researcher and a PhD candidate at the DTTC.
How did you first get involved with the HPTN?
I was recruited by DTTC in 2012 to work on HPTN 071. Our team was creating systems to support implementation of this huge trial, and working closely with local government partners, implementing partners, the London School of Hygiene and Tropical Medicine, Zambart, and the HPTN. I will never forget the operational brainstorming sessions that resulted in actual systems that contributed to the effective implementation of HPTN 071! We went from designing the electronic data capture device we thought we needed, to testing how it performed, to rolling it out during fieldwork and then revising and using an improved version. At the same time, we were sensitizing health services and communities about universal testing and treatment, which initially was only offered through the study, but is now national policy. This whole process exposed me to how much research can challenge practice.
What do you find most challenging about the work you do in support of the HPTN?
Studies require meticulous implementation, and it has taken a lot to carry out research activities in participants' households to the standards needed for high quality outcomes. I have found implementing HPTN 071, a huge HIV prevention trial in communities, incredibly challenging. In the initial stages, we had to be mindful of basic needs such as adequate lighting and privacy in the houses of participants. We had to learn how to equip our research teams properly to mitigate these challenges. Experiences such as these have provided insight into some of the challenges public health programs face in reaching populations where they live. Retaining individuals in public health research as well as public health programs continues to be a challenge that community-based HIV-prevention research and programs are faced with. We as researchers should continue to investigate ways to provide evidence-based guidance on implementing strategies in response to such challenges. The HPTN 071 (PopART) study has done amazing work providing such evidence based implementation strategies.
I have found it very interesting and exciting to learn firsthand about the complexity of implementing advances in HIV policy, and being part of a team designing HIV-prevention interventions for low-resourced‑ communities that will be delivered in the community rather than in clinics. I'm also grateful for the opportunity to be part of such an intimate experience, interacting so closely with ordinary people in our communities. Through this, I have come to understand how real people engage in public health programs.
What do you think will change about HIV prevention over the next five years?
I hope we can effectively implement sustainable methods to reach the UNAIDS 90-90-90 targets in broader society. I also hope that new prevention methods being studied such as long-acting injectables (e.g., HPTN 083, HPTN 084) and vaccines (e.g., HVTN 703/HPTN 081, HVTN 704/HPTN 085) will show great success and become accessible in low-resource settings.
What do you wish other people knew about your work?
Implementing a huge HIV prevention trial in a real-life setting (i.e., people's households) has been quite amazing. I have used the opportunity to engage with people and understand their humanness, amidst their involvement in HIV prevention research. I am constantly amazed at the ability of field teams to complete research activities among all the distractions in an average household. The field teams are truely fantastic and demonstrate such compassion and professionalism!
What might someone be surprised to know about you?
I write poetry and I probably give the loudest chuckle by far when I'm not working. I could probably find some humor in most situation!
What do you do when you aren't working?
I would be doing anything between performing soccer mom duties, dance aerobics, getting my hands dirty in developmental projects, to taking long meditative walks along the beach, which I love doing!