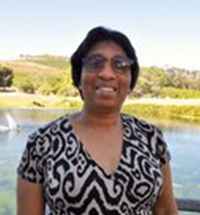 Nozizwe Makola, BEd, PGDip (HIV/AIDS), PGDip (Applied Ethics), is currently working as a community liaison officer for the HPTN 071 (PopART) study at the Desmond Tutu TB Centre (DTTC) at Stellenbosch University, Cape Town, South Africa. She leads the Community Engagement team.
How did you first get involved with the HPTN?
I started working with the HPTN in 2005 when I was employed by the University of Cape Town (UCT) as community educator for the HPTN 039 study. I worked with a team of five mobilizers, recruiting couples for the study. Education on the importance of couples counselling and testing at places where we could recruit couples for enrolment into our study was at the core of our function. Once enrolled, we emphasized adherence and retention strategies. At the end of that study, I worked in health strengthening projects from 2008 to 2010 with UCT and 2011 to 2012 with Desmond Tutu TB Centre (DTTC). Thereafter in 2013, I was employed by DTTC as a community liaison officer for the HPTN 071 study.
What do you find most challenging about the work you do in support of the HPTN?
Engaging communities has its own dynamics. I have found that even though we do stakeholder analysis with the hope of engaging stakeholders prior to the initiation of the study, there are always those that we miss. These stakeholders are so called "gatekeepers" who are very influential even though they do not hold any official position or portfolio within the community. We miss them for various reasons, but mainly because they do not have an official role in the community; however, their influence can potentially derail the study.
What do you think will change about HIV prevention over the next five years?
I think that within the next five years, stigma issues will improve. Currently, there are still people who cannot disclose their status to family members for fear of being discriminated against and stigmatized, especially in rural areas. I also hope with more research literacy in communities, even in the absence of trials, communities will be more enlightened about HIV prevention.
What do you wish other people knew about your work?
I wish people knew working with communities is fun and uplifting. Constant interaction with the community elicits a sense of belonging and responsibility. Approaching communities as partners and in equal terms in events and meetings strengthens the bond between the community and service providers. It builds respect and love for humanity.
What might (someone) be surprised to know about you?
Watch me play cultural games that I have played since my childhood days – this will surprise you. In addition, I like fun and laughter within the family as it creates unique lasting bonds. Finally, I love traveling and the exposure to other cultures.
What do you do when you aren't working?
I am a committed teacher for teenagers in my church. My goal is to empower our teenagers through life-changing activities that enable them to differentiate between what is morally right and wrong. This, I believe, will calibrate their moral compasses to choose wisely whenever they are confronted with tough decisions.