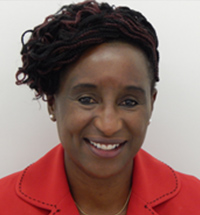 Nyaradzo Mavis Mgodi, (MBChB, MMed) is a histopathologist with 8 years of experience conducting HIV clinical trials in women of reproductive age in Harare, Zimbabwe, the home of the University of Zimbabwe-University of California San Francisco (UZ-UCSF) Collaborative Research Programme, a DAIDS Clinical Trials Unit (CTU). She is lead investigator for the HPTN 076 and HPTN 082 protocols in Harare. She is protocol co-chairperson for HVTN 703/HPTN 081 study, also known as Antibody Mediated Prevention (AMP). Nyaradzo serves as a member of the HPTN Executive Committee, as a scientific reviewer for the Medical Research Council of Zimbabwe, and has served as a technical advisor for the Zimbabwe Population-based HIV Impact Assessment (ZIMPHIA) survey. She is a member of the Policy and Implementation Steering Committee for the Global Evaluation of Microbicide Sensitivity (GEMS) project and also serves as Conference Advisory Committee member for International AIDS Society (IAS) 2017.
1. How did you first get involved with the HPTN?
In 2007, having worked in the Zimbabwean Public Health sector for almost 12 years and seeing the relentless morbidity and mortality from HIV/AIDS, I was overwhelmed by an urgent need to contribute significantly towards curbing the HIV epidemic. I embarked on a career change, moving from clinical pathology to HIV prevention/treatment research and joining the UZ-UCSF CTU as a medical officer for HPTN 035. After the completion of 035, although not directly involved in HPTN, I worked closely with the HPTN 052 team in my CTU and eventually re-joined HPTN in 2015 as Investigator of Record for HPTN 076.

2. What do you find most challenging about the work you do in support of the HPTN?
HIV prevention is a dynamic and evolving field, keeping up with recent advances is quite challenging. However, I work with a highly supportive team which includes great mentors here in Zimbabwe, regionally and internationally; this helps quite a lot with my sense of mission and connectedness in our global collaboration against HIV/AIDS.

3. What do you think will change about HIV prevention over the next five years?
The change has already started, as evidenced by two trials demonstrating that an intra-vaginal dapivirine ring can safely help reduce new HIV infections in women. I am therefore optimistic that in the next five years we will be able to develop an effective biomedical HIV prevention tool that will bridge the existing gap in HIV prevention. We know that an HIV vaccine is the world's best hope of ending HIV. Though there will most likely not be an effective vaccine in the next five years, I think by then we will have made great strides, especially through the mechanism of broadly neutralizing antibodies. I am also confident that in the next five years we will start to see the positive effects of oral PrEP and universal test and treat policies.

4. What do you wish other people knew about your work?
My work is very gratifying and I would not exchange it for anything! It is not just about pecuniary or academic gains but also about self-actualisation and the contribution toward improvement of humankind. HIV exerts an especially high toll in sub-Saharan Africa (SSA) and with the alarming number of new infections each year, time is not on our side. My work brings us closer to our ultimate goal of curbing the pandemic and ensuring an AIDS-free SSA, and of course a world free of AIDS.

5. What might (someone) be surprised to know about you?
I am a mother of a 24-year-old daughter and 19-year-old son. It is quite interesting when my daughter is mistaken for my (much younger) sister! 

6. What do you do when you aren't working?
I'm a workaholic! However, I am an avid reader of fiction and I always make time for a good read. My favourite authors include John Grisham and Sidney Sheldon. I am currently reading Jeffrey Archer's "False Impressions." I also love gardening, I listen to all genres of music and I regularly participate in Walkathons.