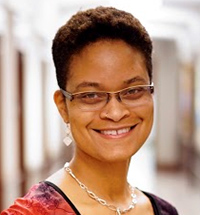 Tonia Poteat, Ph.D., MPH, PA-C, is an assistant professor in the Department of Epidemiology at Johns Hopkins Bloomberg School of Public Health and a 2015-2016 HPTN Scholar. She completed her Ph.D. in International Health at Johns Hopkins University. She holds an undergraduate degree in Biology from Yale University, a Master of Medical Science from Emory University, and a Master of Public Health from Rollins School of Public Health at Emory University. Her research, teaching, and clinical practice focuses on HIV and LGBT health with particular attention on transgender health disparities. In addition to her academic work, Dr. Poteat provides medical care for people living with HIV in the Moore Clinic at Johns Hopkins Hospital. Her HPTN scholar project focused on sexual risk behavior among transgender women compared to cisgender women and MSM in HPTN 063.
How did you first get involved with the HPTN?
I got involved with the HPTN through the scholar program. In 2014, I joined the faculty at Johns Hopkins School of Public Health and learned both Larissa Jennings and Risha Irvin had been part of the scholar program. I had great conversations with each of them, and they encouraged me to apply. I enjoyed participating in Cohort 6 of the HPTN Scholars Program.
What do you find most challenging about the work you do in support of the HPTN?
I am still searching for the best way to stay involved with the HPTN now that my time as a scholar has ended. I have joined the Women at Risk Working Group and hope to get more engaged with the Black Caucus.
What do you think will change about HIV prevention over the next five years?
I think we will continue the revolution in biomedical HIV prevention. There will be long-acting agents to prevent HIV acquisition as well as combined agents that also function as contraceptives. This revolution will generate new challenges and raise new ethical questions that will require rigorous qualitative research to answer.
What do you wish other people knew about your work?
My work is informed by my clinical experience as an HIV care provider as well as my training in social and behavioral sciences. I see these two skill sets as complementary and try to bring lessons from both to my research. I strongly believe that if we are able to implement and scale-up interventions that prevent HIV acquisition among the most vulnerable populations, then we will truly turn the tide in the HIV pandemic.
What might (someone) be surprised to know about you?
I grew up in a small town in North Carolina and was the first person in my family to finish college. My mother's decision to take online classes to get her Bachelor's degree in her late 50's helped to inspire my choice to go back to school for a Ph.D., even though I was older than everyone else in my cohort.
What do you do when you aren't working?
My inner introvert enjoys long walks on wooded trails and getting engrossed in a good novel. My extroverted side loves spending time laughing and eating good food with friends.