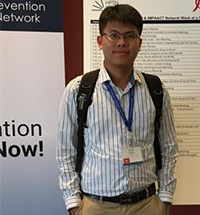 Viet Anh Chu is the Research Manager at The University of North Carolina at Chapel Hill's office in Vietnam. He manages HPTN 074 at Pho Yen CRS in Thai Nguyen, Vietnam and HPTN 083 at Yen Hoa CRS in Hanoi, Vietnam. He holds an undergraduate degree in Public Health from Hanoi University of Public Health, Vietnam. He completed his Masters of Public Health at the University of Melbourne, Australia. His research focuses on HIV prevention for PWID, MSM, and transgender women.
How did you first get involved with the HPTN?
In 2014, our site (Pho Yen CRS in Thai Nguyen, Vietnam) was one of the three sites selected to implement the HPTN 074 study. I was the study coordinator for HPTN 074 in Vietnam. I provided technical support for the study's activities, supervised the study on a daily basis - including recruitment and retention activities - and provided technical and administrative support for the local Community Advisory Board. Since then I have been a member of the HPTN team – the most amazing team for HIV prevention.
What do you like best about the work you do for the HPTN?
Seeing positive changes in a study participant's life, including their health and practicing of safe behaviors due to the successful implementation of the study. 
Why is community education important for the work the HPTN does?
Community education plays an important role in the work of HPTN. It helps the potential participants understand the purposes and procedures of the studies, the nature of the intervention provided by the studies, and their rights, potential benefits, risks & discomforts. This helps motivate the potential participants and helps the studies reach the target population properly. The better community education we do, the more successful implementation of the studies we have. 
What is your most memorable moment from working with the HPTN?
It was two years ago when I met two boys who were 9 and 7 years old. Their mother had left home for a new life long before their father died of AIDS after years of drug injection. They had to take care of each other with little support from relatives and neighbors. More efforts are required to prevent such a situation.
What do you see for the future of HIV prevention in the next 5-10 years

?
In addition to structural interventions, I believe that the use of long-acting formulations such as long-acting injections, TAF implants and broadly neutralizing antibodies to prevent HIV acquisition will play an important role in HIV prevention in the next 5-10 years.
What's a fun fact about you? What do you like to do when you're not working?
I used to be a social person. But seriously, things have changed. When I am not working, I mostly read books and play with my 5-year-old twin girls.