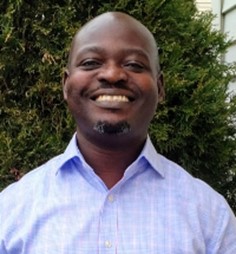 Yaw Agyei, MPH, is a senior international laboratory QA/QC coordinator at the HPTN Laboratory Center at Johns Hopkins University in Baltimore. He has spent the last 19 years working with different African labs to implement many HPTN trials. After completing medical technology training at the University of Maryland School of Medicine in Baltimore and working for the Johns Hopkins University Hospital Core Lab, he relocated to Johannesburg, South Africa, to help with laboratory capacity building in HIV prevention.
What attracted you to a career in HIV prevention research?
I was attracted to a career in HIV prevention following a visit to Africa in 2003 and identifying an unmet gap in laboratory technology and services. Although my visit was to Ghana, where I was born and lived until I moved to the U.S. in 1990, the limited resources I noted were evident across other African countries. With my exposure and experience at Johns Hopkins Hospital, I enjoy sharing tips and strategies to improve the performance of labs in Africa.
What aspect of your role do you enjoy the most?
I enjoy sharing my experiences from different laboratories to improve overall performance. Sharing best practices from a laboratory in Zimbabwe with a laboratory in Kenya or Uganda can address a challenge that might seem impossible to resolve. Using breakfast (e.g., fresh muffins) meetings to sign out lab results was an innovative site-specific strategy to improve the results turn-around time, which led to a culture of ensuring results are signed out every morning.
What has surprised you most about working in HIV prevention research?
I am usually surprised by the willingness of community members to ask personal questions about HIV prevention research once they find out I work in the field. The most exciting conversation was with a taxi driver in Durban, South Africa, who didn't understand how men can be infected with HIV when the male reproductive organ has a small opening. We had a long engaging conversation during the ride.
What has been the biggest challenge working in HIV prevention research?
As a lab scientist, one of the biggest challenges working in resource-limited countries is delays in procuring laboratory reagents and suppliers. The recent COVID-19 pandemic exacerbated this challenge and delayed testing activities in many African laboratories.
What inspires you?
I am inspired by the impact the HPTN has made in communities over the years and feel that we're moving in the right direction to ending HIV transmissions. I have had the pleasure and satisfaction of being part of landmark HPTN studies like HPTN 052, HPTN 068, HPTN 071, and now HPTN 083 and HPTN 084. All these studies have pushed us closer to understanding what communities will accept and use if available.
What has been the most unusual or interesting job you've ever had?
While pursuing my degree as a medical technologist, I worked for an ice cream factory as a quality assurance and quality control associate. I collected samples from the different production stations to perform other tests. Besides checking butter fat content in milk, vitamin C levels in popsicles, and measuring the circumference of ice cream cones, I also tasted samples to confirm that vanilla tasted like vanilla.