Population Effects of Antiretroviral Therapy to Reduce HIV Transmission (PopART): A cluster-randomized trial of the impact of a combination prevention package on population-level HIV incidence in Zambia and South Africa
Study Summary
Study Documents - Study Details* - Key Study Personnel* - Study Sites* - Publications
*Authenticated users only (create your account here)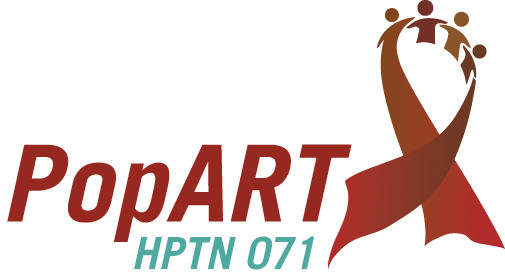 What is HPTN 071?
HPTN 071 - Population Effects of Antiretroviral Therapy to Reduce HIV Transmission (PopART) is a research study that examined the impact of a package of HIV prevention interventions on community-level HIV incidence. The prevention interventions included universal voluntary HIV counseling and testing provided at household level, linkage of HIV infected individuals to care and early initiation of antiretroviral therapy (ART) for all those testing HIV-positive. The study was conducted in 21 communities in the Western Cape of South Africa, and in Zambia.
Who participated in the study?
To measure the impact of the intervention, a Population Cohort, consisting of a representative sample of approximately 2,300 adults aged 18–44 years, was recruited from the general population of each of the 21 communities (an overall total of 48,500 across all communities) and was followed up once a year for three years to measure HIV incidence and other outcomes.
Why is HPTN 071 important?
HIV incidence rates remain at very high levels in many parts of southern Africa. There is an urgent need for more effective HIV prevention strategies. Currently there are 2.5 new HIV infections for every HIV-infected person starting HIV treatment. Without drastic changes in the way HIV is managed, the financial commitment to providing care to people living with HIV will continue to grow. Successful strategies must be identified that will help reduce the number of new infections. Findings from HPTN 071 (PopART) will help inform the scale-up of future HIV programs and identify cost effective interventions. This study is critical for policy makers in determining whether the package of prevention interventions used in HPTN 071 (PopART) will work at population level and whether it is cost-effective.
What happened during the study?
Study communities were randomly assigned to one of three study arms. In the original design of the study, Arm A received the full PopART HIV combination prevention package, Arm B received the PopART package, but with HIV treatment only offered to those eligible according to national guidelines, and Arm C received the current national guidelines. In late 2015, the World Health Organization (WHO) revised its guidelines on HIV/AIDS to recommend ART for all people living with HIV. The HPTN 071 (PopART) study team responded by incorporating this recommendation into the study design, making ART available for all people living with HIV in all study arms. In Arms A & B, Community HIV-care Providers (CHiPs) delivered the full PopART intervention package including:
* The offer of HIV testing and counseling in the home, with active referral for treatment for those with positive test results
* Referral for voluntary medical male circumcision for men who test HIV-negative
* Promotion of services for the prevention of mother-to-child transmission (PMTCT)
* Referral of individuals with symptoms suggestive of TB or sexually transmitted infections for diagnosis and care at a local health facility
* Provision of condoms in the community
Results
HPTN 071 (PopART) will allow researchers to see if universal voluntary HIV counseling and testing, combined with the offer of immediate ART for those who test HIV-positive, has the potential to significantly reduce HIV incidence at the population level. In addition, research is being carried out to examine the acceptability of the PopART intervention and to document the effects of the interventions on a number of factors, including risk behaviors, social networks, HIV identity and community-level HIV associated stigma. Economic evaluations will measure the incremental cost of the intervention packages and will assess the burden on local health centers of implementing them.

Follow-up ended in all study communities in late June/early July 2018. Primary study results are expected in early 2019.
Study Design