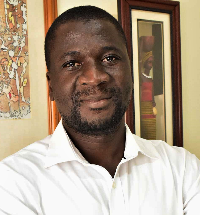 Dr. Zubair Lukyamuzi, protocol chair for HPTN 111, is a public health specialist and researcher at the Makerere University-Johns Hopkins University (MU-JHU) research collaboration in Kampala, Uganda. He has served as a principal investigator on various studies, including a Fogarty/NIH-funded experimental study that assessed the role of community health workers (CHW) in supporting disclosure among adults living with HIV in heterosexual relationships in rural Uganda. The study results revealed that CHWs can support HIV disclosure among heterosexual couples affected by HIV.
What attracted you to a career in HIV prevention research?
As a public health professional and an epidemiologist, I have understood the fundamental principle of modern health care: it is better to stop an illness from occurring than it is to treat it after it has happened. The benefits of this strategy are apparent, but most importantly, it increases the population's productivity and reduces healthcare-related costs. Therefore, in my seven years in HIV-related care, I have seen the poor quality of life and the stigma experienced by people living with HIV. This has always made me realize a critical need for HIV prevention interventions. Thus, I have an interest and a passion for HIV prevention research.
What aspect of your role do you enjoy the most?
Since I started working with the Network, HPTN leadership has taken me through my roles and responsibilities as a protocol chair. I have enjoyed the teamwork exhibited in HPTN 111 so far. This genuine team spirit, openness, and respect among HPTN protocol team members have sped up the protocol development process and the overall progress in the conduct of the study.
What would you say most motivates you to do what you do?
HIV care and prevention have come a long way, from when it was a strange disease to where there is an adequate understanding of the disease and its corresponding prevention and care strategies. All this has been achieved because of creativity and innovation among scientists. Therefore, coming up with creative ideas to progress and enhance HIV prevention is the strongest motivator I can ever have.
Who has been the most significant influence in your career? Why?
Dr. Philippa Musoke, the executive director of the MU-JHU collaboration, has significantly influenced my research career so far. As my immediate supervisor during post-medical school training, she was confident enough to recommend me for the position of research medical officer at MU-JHU despite having suboptimal experience in medical practice and research. Since I joined MU-JHU to work with Dr. Musoke, she has mentored me in research. Therefore, I have admired her hard work, dedication, and courage in maternal and child HIV prevention research.
What inspires you?
The effective HIV prevention interventions developed and personal experiences in HIV prevention and care research motivate me to achieve my goals, think creatively, and aspire to impact the world around me regarding HIV prevention.
What volunteering or passion projects do you do outside of work?
I am passionate about sports, especially gym and football. I like going to the gym regularly. I also enjoy playing and watching football. I rarely miss watching English Premier League games.