Jan 13, 2021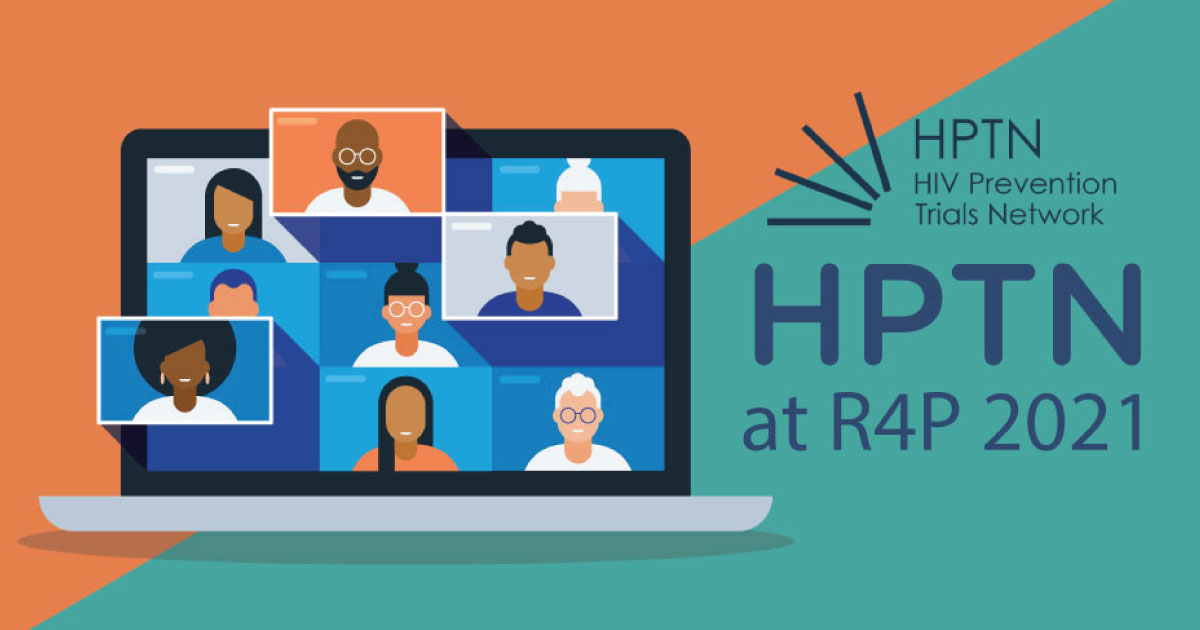 The 4th International AIDS Society (IAS) HIV Research for Prevention Conference (HIVR4P) will take place virtually from 27-28 January and 3-4 February. The conference will offer a combination of live, taped and on-demand presentations featuring the world's leading HIV prevention researchers, implementers, and advocates, along with the latest science. 
HPTN researchers will present 12 abstracts covering HPTN 052, HPTN 073, HPTN 082, HPTN 084, HVTN 703/HPTN 081, HVTN 704/HPTN 085, HVTN 127/HPTN 087, and the Modeling Center. In addition, HPTN Principal Investigator Dr. Myron Cohen will discuss active and passive vaccination to prevent COVID-19 infection and disease during the IAS COVID-19 Conference on 2 February. 
HIVR4P e-posters and links to abstracts will be available online after their initial presentation at www.hptn.org/presentedresearch. 
Download Table of Presentations
Study and Abstract Number

Title

Presenter

Presentation Format

Date & Time

HPTN 073

 

Identifying sexual risk profiles and PrEP initiation among Black sexual minority men in HPTN 073

Derek Dangerfield II

Poster

TBD

HPTN 082

 

Assessing Longitudinal Patterns of Depressive Symptoms and the Influence of Symptom Trajectories on PrEP Persistence Among Adolescent Girls in HPTN 082

Jennifer Velloza

Poster

TBD

Predicting PrEP efficacy in women with partial adherence to tenofovir and emtricitabine

James Moore

Poster

TBD

PrEP Adherence is Associated With Periods of HIV Risk Among Adolescent Girls and Young Women in South Africa and Zimbabwe

Jennifer Velloza

Poster

TBD

HPTN 084

 

Long acting injectable cabotegravir is safe and effective in preventing HIV infection in cisgender women: interim results from HPTN 084

Sinead Delany-Moretlwe

Oral

Wednesday 27 January, 15:15 (UTC)

AMP

 

HY01.01

VRC01 antibody prevention of HIV

TBD

Oral

Wednesday 27 January, 15:00 (UTC)

Neutralization profiles of HIV-1 subtype C breakthrough viruses from the Southern African VRC01 AMP trial (HVTN 703/HPTN 081)

Nonhlanhla N. Mkhize

Oral

Wednesday 27 January, 17:46 (UTC)

Analysis of genetic diversity and VRC01 pressure on HIV-1 breakthrough viruses from the AMP trial (HVTN 703/HPTN 081 and HVTN 704/085)

Carolyn Williamson

Oral

Wednesday 27 January, 17:54 (UTC)

HVTN 127/HPTN 087

 

Safety and Single-Dose Pharmacokinetics of VRC07-523LS Administered via Different Routes and Doses

Stephen Walsh

Oral

Wednesday 27 January, 17:30 (UTC)

HPTN Modelling Center

 

Assessing the use of surveillance data to estimate reductions in HIV incidence achieved by combination HIV prevention programs: a mathematical modelling study

Kate Mitchell

Poster

TBD

Estimating the impact of PrEP regimens containing long-acting injectable cabotegravir or daily oral tenofovir/emtricitabine among men who have sex with men in the United States: mathematical modelling for HPTN 083

Kate Mitchell

Poster

TBD

COVID-19 and associated disruptions may indirectly affect HIV outcomes in two capital cities in Western/Central Africa: a modelling study

Romain Silhol

Poster

TBD

HPTN 071

 

Understanding and unpacking the results of the HPTN 071 (PopART) trial

 

Satellite Session

Thursday 04 February, 12:15 - 13:45 (UTC)

 

Introduction: Overview of trial and results

Helen Ayles

 

12:15 (UTC)

 

Did the PopART intervention lead to changes in sexual behavior? Were there differences in behavior between study arms?

Ethan Wilson

 

12:20 (UTC)

 

Model projections: Did the mathematical model fit the data from the trial? What was the projected impact of the intervention if sustained over time and implemented more widely?

William Probert

 

12:35 (UTC)

 

How did ART adherence and viral suppression in those on ART compare between study arms and over time? Could poor adherence explain the lower impact in Arm A?

David Macleod

 

12:50 (UTC)

 

What were the community-level correlates of HIV incidence in the trial? Could differences in community viral burden explain the differences in incidence between study arms and between communities?

Timothy Skalland

 

13:05 (UTC)

 

Summary and concluding remarks

Richard Hayes

 

13:20 (UTC)