Feb 24, 2022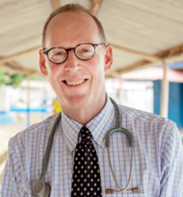 On Monday, Dr. Paul Farmer, a global health champion, Harvard Medical School professor, anthropologist, author, and co-founder of the non-profit Partners in Health, passed away unexpectedly at his home in Rwanda. For the past few weeks, he had been teaching at the University of Global Health Equity, in Kigali, Rwanda, a medical institute he helped establish.
Dr. Farmer was a professor of medicine at Harvard Medical School and chief of the division of global health equity at Brigham and Women's Hospital in Boston. In addition to starting hospitals in Rwanda and Haiti, Dr. Farmer helped bring HIV medicines to the people of Haiti in the early 2000s. He wrote extensively on health, human rights, and social equity as a celebrated author.
Dr. Farmer co-founded Partners in Health in 1987 to help ensure everyone has access to quality health care. The global non-profit organization began its work in Cange, a rural village in Haiti's central plateau. It later expanded its operations to Africa, Eastern Europe, and Latin America.
Dr. Farmer was the subject of Pulitzer Prize-winning author Tracy Kidder's book, "Mountains Beyond Mountains: The Quest of Dr. Paul Farmer, A Man Who Would Cure the World." Dr. Farmer's life and work were also the subjects of a 2017 documentary, "Bending the Arc." He will be remembered as a force for progress, decency, and the reason why many people entered the public health field.
We take comfort in knowing that Paul's legacy will endure in the work of the countless professionals he taught, mentored, and motivated, and in the millions of people whose lives he touched through his tireless work to create a healthier world for all.

 
-Dr. Wafaa El-Sadr, HPTN principal investigator, director of ICAP, and professor of epidemiology and medicine at Columbia University in New York.
Just a few people in life have such a meaningful and profound effect on others. Paul Farmer was one of those people. He led a life in service of others, stressing that quality health care is a universal human right. His impact on global public health is immeasurable.

 
-Dr. Myron S. Cohen, HPTN principal investigator, and director of the Institute for Global Health at the University of North Carolina in Chapel Hill. 
Our deepest condolences go to his wife Didi, three children, and colleagues.