COVID-19 has affected 213 countries and territories around the world. There have been more than 16 million cases and more than 650,000 deaths worldwide. In a time of fear, uncertainty and doubt, reaching study populations in creative ways has become even more critical given the realities of social distancing and virtual communications.
To get a sense of how HPTN Network members are currently building and maintaining connections with study participants, we sought feedback from three HPTN Community Working Group Members: Adrianna Boulin, a community engagement manager at the Fenway Institute in Boston; Edmilson Medeiros, a community engagement coordinator at the Centro Cerqueira Cesar Clinical Research Center at the University of Sao Paulo in Brazil; and Elizabeth Shambadza Magada, a senior research counselor and community educator for the Parirenyatwa and Spilhaus clinical research sites in Zimbabwe. 
---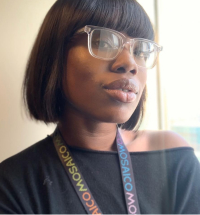 According to Adrianna Boulin, the Fenway Institute has developed new and innovative ways to continue to connect, support and make resources available to study participants in addition to telephone and email exchanges. For example, Fenway has hosted several virtual events including a Pride-themed disco, co-hosted with a local Boston club, and a fitness event led by a locally well-known and respected transgender fitness instructor. Future virtual events will address the histories, experiences and prevention research of HIV and COVID-19.
"Despite being remote and not physically being in the office, it has been crucial now to stay actively engaged with our community advisory board, study participants, community, local stakeholders and partner organizations," said Adrianna. "Everyone has been willing to come together during this time, which has been a great source of support."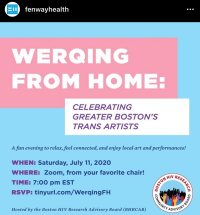 Adrianna and her site colleagues have also been very active on social media, posting research content and showcasing the clinical research site's human side, sharing at-home workspaces and pets while encouraging followers to share theirs as well.
As for any upside of the new working conditions, Adrianna says she and her Fenway colleagues have found comfort in how enthusiastic and appreciative people have been about their efforts to stay connected. "We have fostered genuine relationships with our study participants and not seeing them has been as hard as not seeing our work colleagues and friends," Adrianna said.
---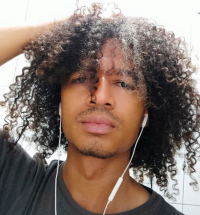 During this period of the COVID-19 pandemic, where social isolation is one of the prevention tools, Edmilson Medeiros and his community education colleagues use social network strategies to keep in touch with participants. There is also a dedicated phone number that study participants can call to speak with a member of the study team.
"We have the practice of looking at all participants holistically, thinking about the different aspects of their lives," said Edmilson. "We understand that all participants have a complex life beyond the doors of the research center. So, together we determine their vulnerabilities to HIV, and how those vulnerabilities can increase their risk for HIV acquisition."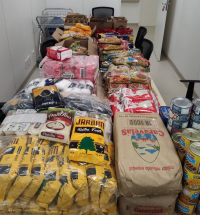 Edmilson recalls during the first weeks of social isolation, site staff mobilized a solidarity network to collect donations to purchase food for organizations that serve the LGBTIQAP+ population. Along with food, they included a recipe booklet as a little note of affirmation.
"It is always good to know that something you have done has a positive result," Edmilson said. "At the same time, knowing we were able to support some study participants during their time of need, reaffirms our community education efforts must always extend beyond the physical limits of the research center and never lose the ability to look at participants with a human and welcoming look."
---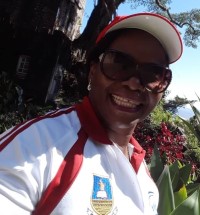 To stay connected with the participants during the pandemic, Elizabeth Shambadza Magada and her Harare, Zimbabwe clinical trial unit (CTU) colleagues follow the COVID -19 control measures issued by the Zimbabwean Ministry of Health in conformity with the World Health Organization (WHO). In turn, the CTU developed and implemented additional measures including scheduling participants in manageable and reasonable numbers that allow social distancing amongst participants within the clinic, providing participants with transport to/from the clinic, and contacting participants by phone before visits to screen then for any COVID-19 symptoms.
To date, the Harare, Zimbabwe CTU has not experienced any resistance from any study participants. "I attribute the pervasive buy-in and support to high levels of awareness around COVID-19 and the commitment from all stakeholders ensures the pandemic does not spread in the country," said Elizabeth. Apart from getting connected with participants, continued telephone communication and conference calls with CTU-CAB and community educators are ongoing. Meetings involve study progress updates and COVID training.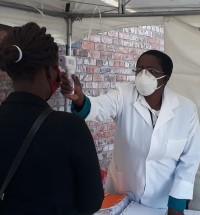 As for any lessons learned so far, Elizabeth says that operating in an environment such as COVID-19 is unpredictable and has reinforced the importance of general emergency preparedness and continuity plans. "Despite the well-known broad negative effects on people's well-being, there is a significant population that lags in denial hence presenting with myths and misperceptions surrounding the origin, spread and contraction of COVID-19," Elizabeth said. To address this, the CTU collects myths in the community about COVID-19 from CAB members and participants to develop a Myths and Facts document to further community education and augment government efforts in dealing with the pandemic. The fact sheets will be used to develop posters to be displayed in strategic places, including clinics and hospitals.
---
Final Thoughts
COVID-19 had the potential to derail all HPTN studies during the initial shutdowns due to disruptions caused by the general restrictions to movement and unavailability of transport for participants. HPTN community educators were challenged to develop new and creative ways to stay connected with study participants. The three educators' experiences profiled here are a small example of the great efforts site members across the globe are taking to ensure study participant safety is maintained while continuing research efforts. The tremendous work and accomplishments of the Network would not be possible without support and collaboration from funders and partners, study participants, advocates, educators, site staff, and investigators.