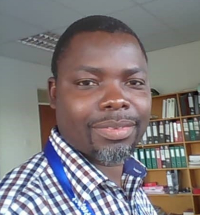 Daniel Gondwe is an assistant community engagement coordinator with the John Hopkins Research Project in Blantyre, Malawi. He currently serves as a member of the HPTN 084 Community Working Group. Daniel previously served as a member of the HPTN Global Community Working Group during the implementation of HPTN 035, HPTN 052, HPTN 075, and HVTN 703/HPTN 081.
How did you first get involved with the HPTN?
Two years after joining the Blantyre Clinical Research Site, I joined the recruitment team for HPTN 035. It was exciting joining that great team and recruiting many participants into the study. After contributing to the development of education, recruitment and retention strategies, my services were required at the start of several HPTN protocols.
What do you find most challenging about the work you do in support of HIV prevention?
Ignorance has become a great enemy in the fight against HIV. The myths, misconceptions, and cultural and religious beliefs have also remained a challenge over the decades. Male involvement is another challenge, especially when male partners become unwilling to support their female partners. Also, it can take a long time for new HIV prevention strategies to be adopted and implemented by policymakers.
What do you think will change about HIV prevention over the next five years?
There is hope the vaginal ring may add to the HIV prevention toolbox, coupled with PrEP.
What do you wish other people knew about your work?
My greatest passion is to educate the masses, recruit participants, and retain them until the end of a study. It is why we get involved with HIV prevention studies.
What might someone be surprised to know about you?
My role as a chairperson for The Office of HIV/AIDS Network Coordination (HANC) Evaluation Working Group (EWG). I led the team in the development of a manuscript entitled, "Community-Researcher Partnerships at NIAID HIV/AIDS Clinical Trials Sites: Insights for Evaluation & Enhancement." Currently, I am writing a chapter that will be part of a book Theodorus Sandfort, PhD, is developing about the implementation of the HPTN 075 protocol.
What do you do when you aren't working?
I enjoy spending most of my free time with my family. I also have a couple of roles at the division, district, and zone levels, which provides me an opportunity to do some of the assignments that I cannot do when I am busy with my work.