HPTN researchers virtually presented 14 abstracts showcasing HPTN 052, HPTN 071, HPTN 075, HPTN 078, and the HPTN Modelling Centre and HPTN Laboratory Center's ongoing work at the 27th annual Conference on Retroviruses and Opportunistic Infections (CROI).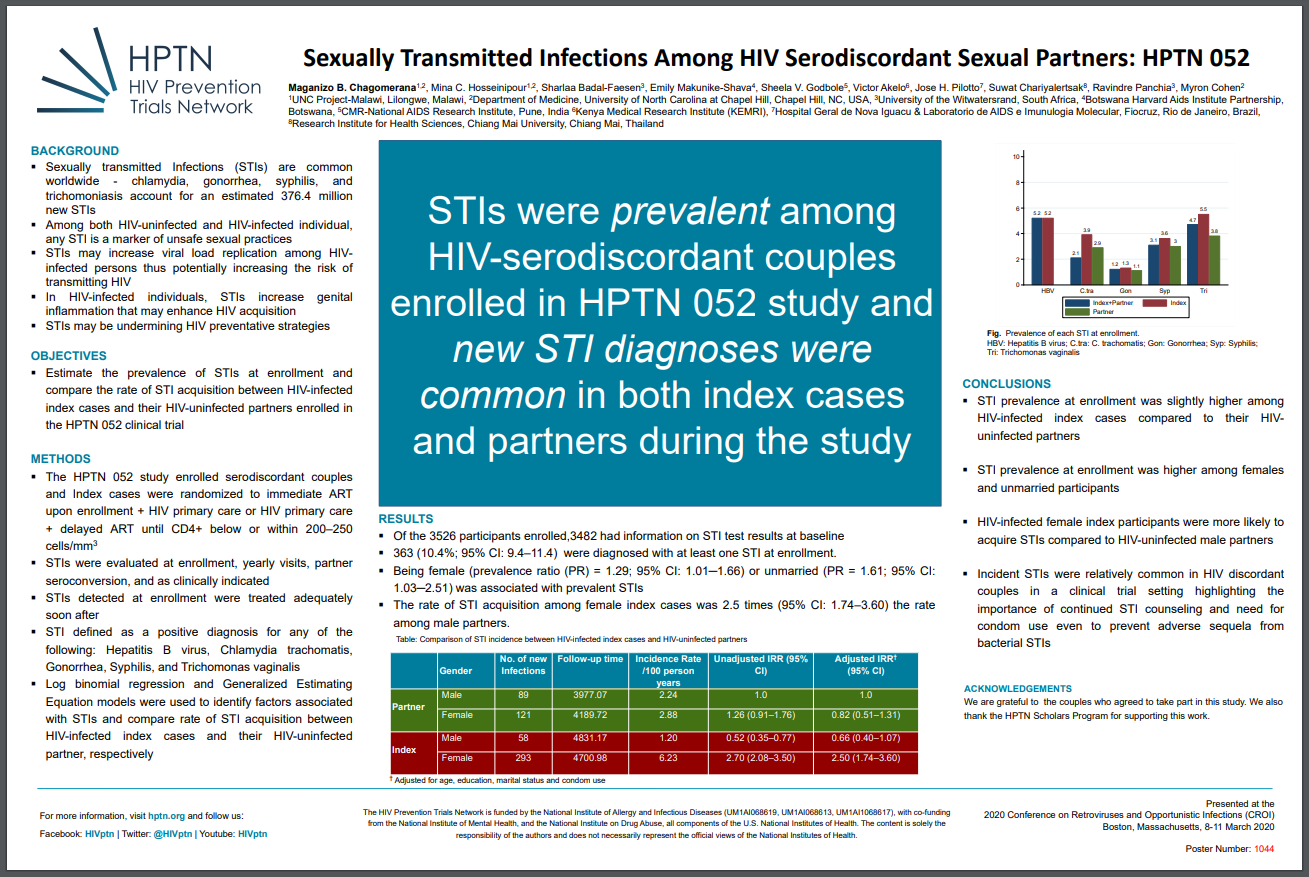 HPTN 052 was a Phase III, two-arm, randomized, controlled, multi-center trial that determined antiretroviral therapy (ART) can prevent the sexual transmission of HIV-1 in HIV-1 serodiscordant couples.
HPTN 071 (PopART) examined the impact of a package of HIV prevention interventions on community-level HIV incidence. Results showed delivery of an HIV prevention strategy that includes offering in-home HIV testing to everyone, with immediate referral to HIV care, and treatment for people living with HIV based on prevailing in-country guidelines, can substantially reduce new HIV infections.
HPTN 075 evaluated the feasibility of HIV prevention research among men who have sex with men (MSM) and transgender women (TGW) in three countries in sub-Saharan Africa. Findings showed participants were at an alarming risk for getting HIV.
HPTN 078 was a U.S.-based research study designed to evaluate the effectiveness of a combined HIV prevention strategy, including a peer-to-peer referral method to recruit men who have sex with men (MSM) living with unsuppressed HIV and an intervention to help them achieve and maintain viral suppression.
Two other posters from the HPTN Laboratory Center presented additional findings from this study.
HPTN Modelling Centre
Additional posters from the HPTN Laboratory Center