A Phase III Randomized Controlled Trial of Community Mobilization, Mobile Testing, Same-Day Results, and Post-Test Support for HIV in Sub-Saharan Africa and Thailand
Study Summary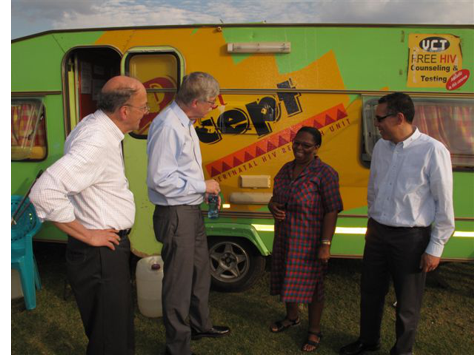 NIMH Project Accept (HPTN 043) was the first community-randomized trial to test a combination of social, behavioral and structural interventions for HIV prevention and to assess the impact of an integrated strategy at the community level. The study was conducted in 34 communities in Africa (in South Africa, Tanzania, and Zimbabwe) and 14 communities in Thailand. The four major interventions of the study weredesigned to; 1) increase access to voluntary counseling and testing and post-test services; 2) change community attitudes around HIV awareness, particularly the benefit of knowing one's HIV status; 3) remove barriers to knowing one's HIV status; and 4) increase the safety of testing and minimize the potential negative consequences of testing by providing various forms of support.
NIMH Project Accept was funded as a National Institute of Mental Health (NIMH) Cooperative Agreement  involving the NIMH and several U.S. and international institutions. The HIV Prevention Trials Network (HPTN) also provides support to the project (HPTN 043); support was also been provided by the Office of AIDS Research of the National Institutes of Health.
Visit the NIMH Project Accept website to learn more about the study, the sites where was implemented, and the members of the study teams at each site.  The study protocol and other documents are also available on the study website.
Questions about NIMH Project Accept/HPTN 043 should be directed to:
Greg Szekeres 
UCLA David Geffen School of Medicine
Division of Infectious Diseases
10940 Wilshire Boulevard
Suite 1220, Box 957320
Los Angeles, CA 90024-3916
U.S.A.
Phone: 310-794-3579
Fax: 310-794-2795
Email: gszekeres@mednet.ucla.edu