Evaluation of Daily Oral PrEP as a Primary Prevention Strategy for Young African Women: A Vanguard Study
Study Summary

Study Documents - Study Details* - Key Study Personnel* - Study Sites* - Publications
*Authenticated users only (create your account here)
What is HPTN 082?
HPTN 082 is a sub-Saharan-based research study designed to assess the number of and characteristics of young women who accepted versus declined pre-exposure prophylaxis (PrEP) at enrollment. The study also compared adherence to PrEP between women who were randomized to receive standard adherence support and those who received enhanced adherence support.
Who participated in the study?
451 women were enrolled in HPTN 082, of whom 412 HIV-uninfected women ages 16-25 accepted PrEP at enrollment and 15 accepted PrEP at a later time during the trial. The women were recruited at two sites in South Africa (Cape Town and Johannesburg) and one site in Harare, Zimbabwe.
Why is HPTN 082 important?
Young African women are an important population for PrEP implementation, representing three of the four million young people living with HIV in sub-Saharan Africa, and with high annual HIV incidence rates of 5-6% in recent HIV prevention trials. Oral PrEP has the potential to significantly reduce HIV incidence among young African women, if delivered with clear information about its efficacy and the importance of high-level adherence; counseling and risk assessments to determine women's perceived risks and benefits of PrEP; and tailored cognitive behavioral counseling with short message service (SMS) reminders adapted to this specific population.
What happened during the study?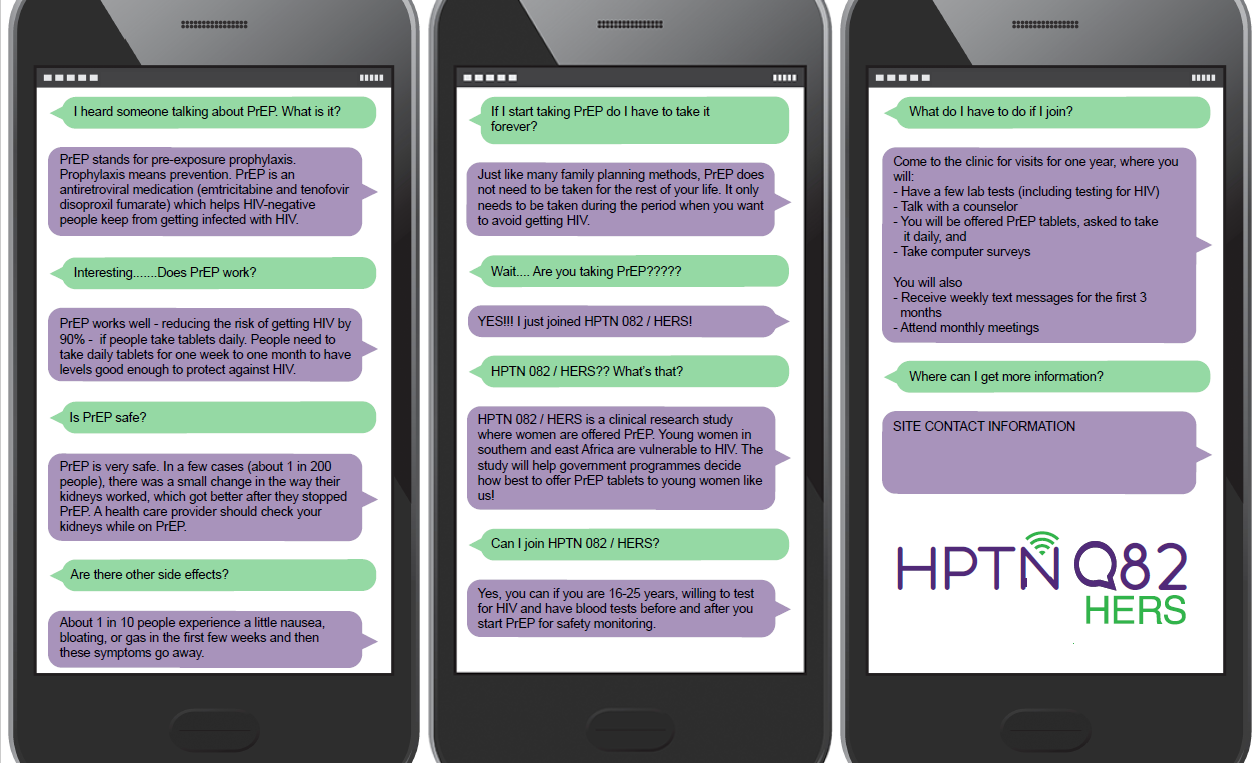 Participants were offered open-label PrEP and followed for up to one year. Participants who accepted PrEP were randomly assigned in a 1:1 ratio to receive standard adherence support (counseling, two-way SMS communication), and peer support through adherence support clubs or enhanced adherence support with counseling based on feedback from drug levels in addition to the standard adherence support (counseling, two-way SMS communication, and peer support through adherence support clubs). A subset of 67 women, including PrEP decliners and late accepters, were also recruited to participate in interviews, to explore why a woman decides to use PrEP in the first three months after PrEP acceptance. Thirty-nine additional women were enrolled who were interested in PrEP and were eligible for the study, but declined to accept oral PrEP at enrollment. These women continued to be offered PrEP during follow up visits to determine the proportion who subsequently accepted PrEP (late acceptors), and the characteristics of early vs. delayed PrEP accepters and those who did not accept PrEP during follow up.
Results
Results showed there was a very high PrEP uptake (95%) among young women who were at risk for HIV, a majority of whom took PrEP in the first 6 months. 
There was no effect of drug level feedback on proportions with detectable TFV-DP or high adherence by arm at 6 months
Women who perceived themselves to be at risk of HIV and were motivated to use PrEP (HPRM score) had higher adherence at 6 months
Adherence declined significantly after month 3
There was low HIV incidence (1%) given the risk profile of this cohort
Longer-acting PrEP & choice of options will likely increase uptake, adherence & persistence (i.e., effective coverage)