Evaluation of Daily Oral PrEP as a Primary Prevention Strategy for Young African Women: A Vanguard Study
Study Summary

Study Documents - Study Details - Key Study Personnel - Study Sites - Publications
What is HPTN 082?
HPTN 082 is a sub-Saharan-based research study designed to assess the number of and characteristics of young women who accepted versus declined pre-exposure prophylaxis (PrEP) at enrollment. The study also compared adherence to PrEP between women who were randomized to receive standard adherence support and those who received enhanced adherence support.
Who participated in the study?
451 women were enrolled in HPTN 082, of whom 412 HIV-uninfected women ages 16-25 accepted PrEP at enrollment and 15 accepted PrEP at a later time during the trial. The women were recruited at two sites in South Africa (Cape Town and Johannesburg) and one site in Harare, Zimbabwe.
Why is HPTN 082 important?
Young African women are an important population for PrEP implementation, representing three of the four million young people living with HIV in sub-Saharan Africa, and with high annual HIV incidence rates of 5-6% in recent HIV prevention trials. Oral PrEP has the potential to significantly reduce HIV incidence among young African women, if delivered with clear information about its efficacy and the importance of high-level adherence; counseling and risk assessments to determine women's perceived risks and benefits of PrEP; and tailored cognitive behavioral counseling with short message service (SMS) reminders adapted to this specific population.
What happened during the study?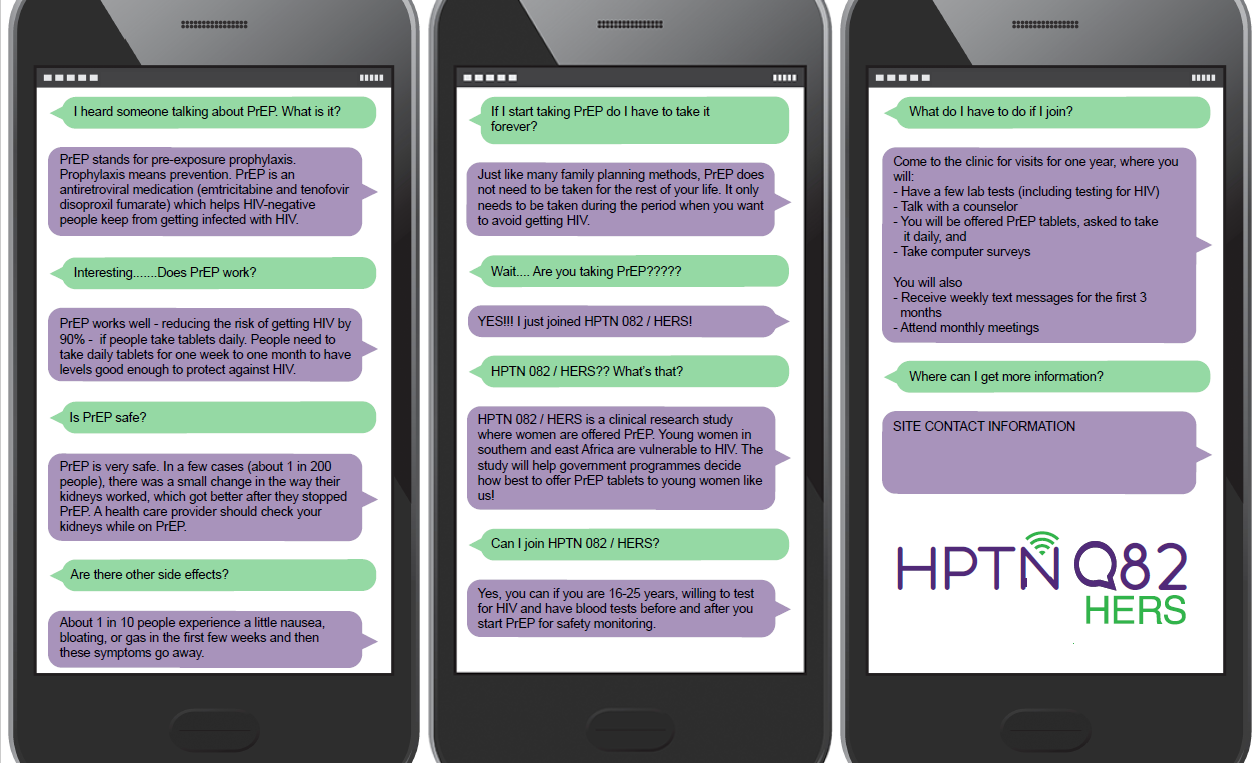 Participants were offered open-label PrEP and followed for up to one year. Participants who accepted PrEP were randomly assigned in a 1:1 ratio to receive standard adherence support (counseling, two-way SMS communication), and peer support through adherence support clubs or enhanced adherence support with counseling based on feedback from drug levels in addition to the standard adherence support (counseling, two-way SMS communication, and peer support through adherence support clubs). A subset of 67 women, including PrEP decliners and late accepters, were also recruited to participate in interviews, to explore why a woman decides to use PrEP in the first three months after PrEP acceptance. Thirty-nine additional women were enrolled who were interested in PrEP and were eligible for the study, but declined to accept oral PrEP at enrollment. These women continued to be offered PrEP during follow up visits to determine the proportion who subsequently accepted PrEP (late acceptors), and the characteristics of early vs. delayed PrEP accepters and those who did not accept PrEP during follow up.
Results
Results showed there was a very high PrEP uptake (95%) among young women who were at risk for HIV, a majority of whom took PrEP in the first 6 months. 
There was no effect of drug level feedback on proportions with detectable TFV-DP or high adherence by arm at 6 months
Women who perceived themselves to be at risk of HIV and were motivated to use PrEP (HPRM score) had higher adherence at 6 months
Adherence declined significantly after month 3
There was low HIV incidence (1%) given the risk profile of this cohort
Longer-acting PrEP & choice of options will likely increase uptake, adherence & persistence (i.e., effective coverage)
Study Documents
HPTN 082 Version 1.0
Presentations
IAS 2019
More Study Documents
You must request access to private documents (i.e. SSPs) in Microsoft Teams. You can request access to the Team by emailing Jeff Webb (jwebb@fhi360.org). 
You will need a Microsoft account to log in to Team. Click here for instructions on setting up your Microsoft account and accessing the Teams platform.
Study Details
Protocol Status:
Participants Off Study and Primary Analysis Completed
Study Purpose:
To assess the acceptance rate, adherence, acceptability, and continuation of oral pre-exposure prophylaxis (PrEP) among young southern African women.
Study Design:
A Phase IV randomized multi-site prospective study to assess PrEP acceptance and adherence among HIV-uninfected young women. All women who accept open-label daily oral PrEP will be randomized 1:1 to receive enhanced adherence counselling based on feedback from observed drug levels or standard adherence support. A subset of up to ~25 women per site (maximum 75), will participate in qualitative assessments of facilitators and barriers for PrEP acceptance, adherence and continuation.
Study Population:
HIV-uninfected women ages 16-25 years
Study Size:
400 young women who accept PrEP at enrollment and up to 200 young women who decline PrEP at enrollment.
Study Duration:
Approximately 24 months, including submissions to Institutional Review Boards (IRBs) and national drug regulatory authorities, recruitment, and 12 months of follow-up per participant.
Treatment Regimen:
All participants will be offered once daily oral emtricitabine 200 mg / tenofovir disoproxil fumarate 300 mg (FTC/TDF)
Primary Objectives:
To assess the proportion and characteristics of young HIV-uninfected women who accept versus decline PrEP at enrollment.
To assess the difference in PrEP adherence using drug levels in young women randomized to the enhanced versus standard arms.
Secondary Objectives:
To assess the timing of PrEP acceptance among women who initially decline PrEP at enrollment but elect to accept PrEP during follow up.
To assess correlates of early and delayed acceptance of PrEP, including sociodemographic factors, individual-level and partner-level characteristics, and risk practices.
To assess correlates of PrEP adherence at Weeks 13, 26, and 52, after adjusting for study arm, such as adherence at prior study visits, sociodemographic factors, individual-level and partner-level characteristics, exposure to study-based adherence support, and risk practices.
To assess the proportion of young women who discontinue PrEP, timing of discontinuation, and factors associated with PrEP discontinuation.
To assess the specificity and predictive value of a PrEP readiness tool [based on the HIV Prevention Readiness Measure (HPRM) and PrEP Beliefs Measure (PBM)] to predict uptake and adherence to oral PrEP.
To explore qualitative factors that influence women's decisions to use PrEP, to adhere to PrEP, and acceptability of PrEP in the first 3 months after PrEP acceptance.
To compare adverse events between young women taking PrEP and young women who are not taking PrEP.
To assess HIV incidence in those who accept PrEP compared to those who do not, and to assess the association with detectable TFV in PrEP users who acquire HIV infection during the study.
Study Sites List